(Das neue Logo!)
In einem Satz
Microsoft bringt Dynamics CRM und ERP Lösungen und mehr zusammen in einem Cloud Bundle namens Dynamics 365.
Ausführliche Beschreibung
Auf dem Influencer-Briefing zu Dynamics 365 im Jnauar 2017 gibt Microsoft bekannt, dass die eigentlich nur noch für die Cloud geplante Variante Dynamics 365 nun doch auch für On-Premise geplant ist:  die Enterprise Edition (nur diese!), wird künftig auch als On-Premise-Version verfügbar sein. "Wir glauben, dass wir den Kunden in der Cloud Mehrwerte bieten, etwa günstigere Investitionskosten und eine höhere Verfügbarkeit", sagt Frank Naujoks, Lead für Dynamics AX bei Microsoft Deutschland. "Aber wir lassen den Kunden beim Betriebsmodell die Wahl. Wir geben ihnen einen Regler in die Hand, mit dem sie quasi stufenlos zwischen 0 Prozent und 100 Prozent Cloud aussteuern können." (Vielleicht war auch einfach die Nachfrage nach einer weiteren On-Premise-Version zu groß…) Dynamics 365 basiert auf Azure und da es den Azure Stack für On-Premise gibt, wird es wohl technisch nicht allzuschwierig sein, die Lösung auch auf eigenen Servern zu betreiben.
Dynamics 365 ist der Familienbegriff für eine ganze Reihe neuer, ausschließlich Cloud-basierte Dienste aus dem Microsoft Dynamics-Umfeld. Sowohl CRM als auch AX und NAV unter dem Codenamen "Project Madeira" (built on Dynamics NAV), werden in dem Bundle enthalten sein.
Dynamics 365 wird schrittweise eingeführt und soll im Herbst 2016 losgehen mit Applikationen im Bereich Financials, Field Service, Sales, Operations, Marketing, Project Service Automation and Customer Service: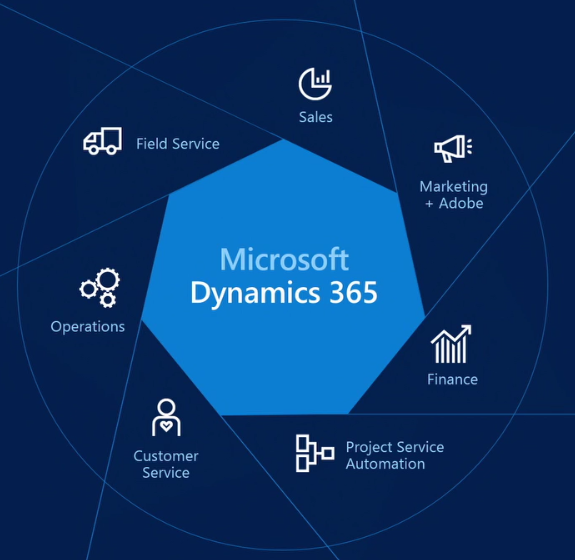 Die Microsoft Roadmap sieht so aus: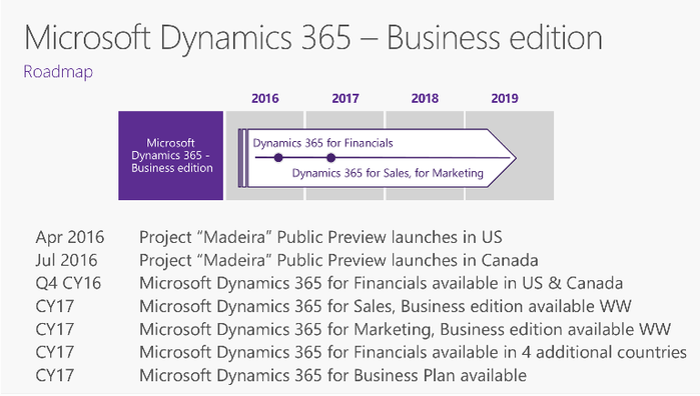 Microsoft Dynamics 365 seit 1.6.17 in der Microsoft Cloud Deutschland verfügbar!
Die cloudbasierte Unternehmenssoftware Dynamics 365 steht nun auch aus den deutschen Rechenzentren in Frankfurt/Main und Magdeburg zur Verfügung. Microsoft startet mit den Diensten Dynamics 365 for Sales und Dynamics 365 for Customer Service. Auch Dynamics 365 for Field Service und Dynamics 365 for Project Service Automation werden als Teil des sogenannten Plan 1-Angebots verfügbar sein. Weitere Services werden im Laufe des Kalenderjahres folgen.
BusinessApps_ReleaseNotes_v18.1.1: Download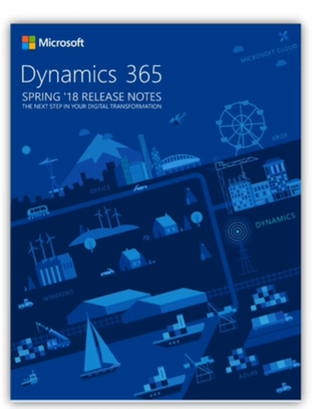 Editionen
Grundsätzlich gibt es zwei Zielgruppen und Editionen:
Dynamics 365 Business
Dynamics 365 Enterprise
Anmerkungen zur
> Business Edition
1 bis max 300 User
(technische Begrenzung)
Sales, Marketing und Customer Service geplant für Anfang 2017
Mischen der Pläne ist möglich
Derzeit nur Nord-Amerika
> Enterprise Edition
Keine Begrenzung der Userzahl
Dual Access Rights
Dann wird unterteilt in Full-Use versus Team Use, also eine "Light"-Edition.
Die Enterprise Edition wiederum unterteilt sich in Plan 1 und Plan 2:
Im Lauf des Januar 2017 wird Microsoft Dynamics 365 Plan 1 als eine IUR-Leistung (Lizenzen für die interne Nutzung) für Action Pack- und Kompetenzpartner ergänzt und ersetzt damit Dynamics CRM Online IUR für Action Pack-, Kernkompetenz- und Cloud CRM-Kompetenzleistungen.
Dynamics 365 for Team Members, Business Edition
A single Team Members, Business Edition Subscription includes all the light use scenarios from within Dynamics 365, Business edition applications. When a customer adds additional Dynamics 365, Business edition applications, no additional Team Members subscription purchases are required for existing Team Members users.Dynamics 365 for Team Members, Business edition also includes the "PowerApps for Dynamics 365 Applications" license. Team Members users can use PowerApps to access Dynamics 365 within the bounds of their Team Members license.  (Aber scheinbar keine Lizenz für "Flow for Dynamics 365")
Dynamics 365 for Team Members, Business Edition User können Folgendes:
Read anything that's enabled in Financials or any other Dynamics 365 Application
Update existing data and entries in Financials – Existing data are records like customer, vendor or item records which are already created. Entries means entries on which it is specifically allowed from an accounting perspective to update specific information. (e.g. due date on customer ledger entries)
Approve or reject tasks in all workflows assigned to a user
Create, edit, delete a quote or requisition
Create, edit, delete personal information
Enter a Time Sheet for Jobs
Use PowerApps for Dynamics 365
Dynamics 365 for Team Members, Business edition requires that at least one other user be licensed with Dynamics 365 for Financials.
Wichtige Funktionen
Das Portal, die Startseite
Am 1.11.16 wurde die Microsoft CRM Online Seite automatisch umgeleitet auf die neue Startseite aller Dynamics 365 Komponenten: http://home.dynamics.com
Dort sind auch sofort unsere selbst erstellten PowerApp-Apps sichtbar und weitere Dynamics 365 Lizenzen werden dann hier eingebunden.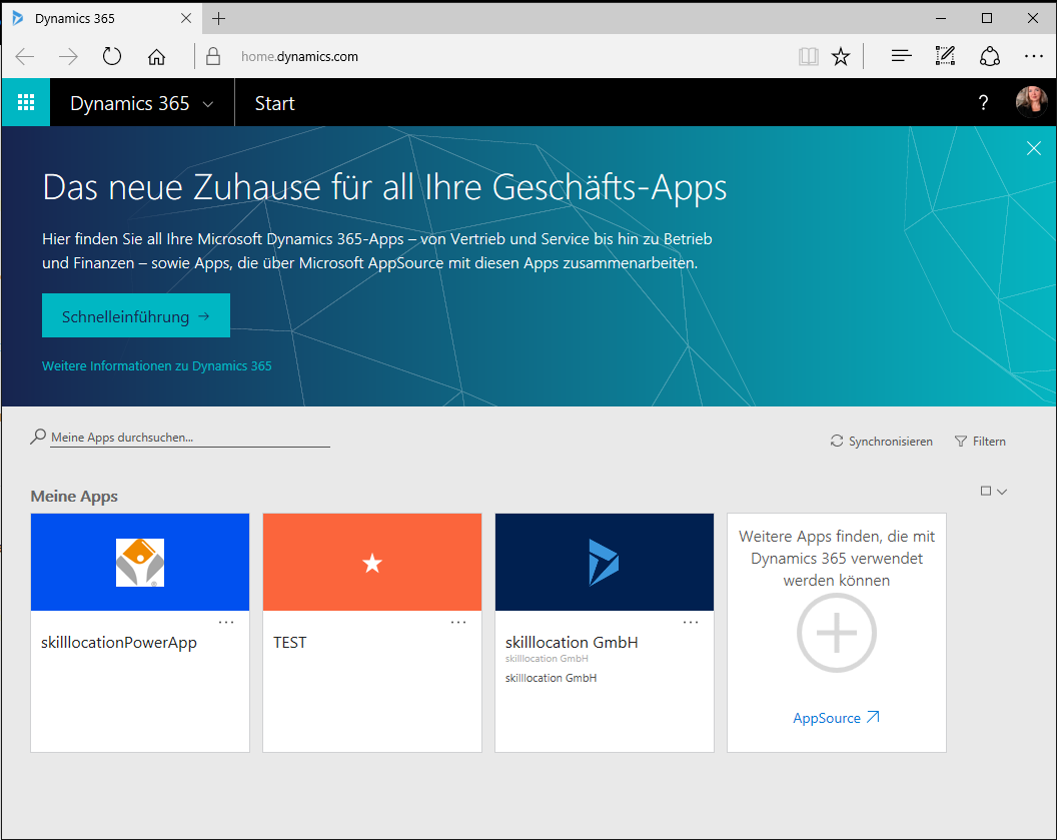 Deutlich erkennbar auch der Verweis auf AppSource, ein Azure-basierendes App-Verzeichnis mit eigenen oder ISV Ergänzungen. Dieser App-Markt ist bereits heute schon gefüllt, auch mit Erweiterungen zu Dynamics 365.
Integration in Office 365
Weitere Infos hierzu in Kürze!
Integration in CRM Online
Klickt man im Startportal auf den Sales Bereich, wechselt der Browser zu CRM, was man an der geänderten URL erkennt. Hier geschieht ein SingleSignOn (ohne erneute Anmeldung) und eine automatische Integration der Werkzeuge, so dass es für den User wie ein Werkzeug erscheint (oh Gott, wie lange haben wir uns das gewünscht):
An der URL kann man aber erkennen, dass auf die frühere URL von CRM Online geswitcht wird.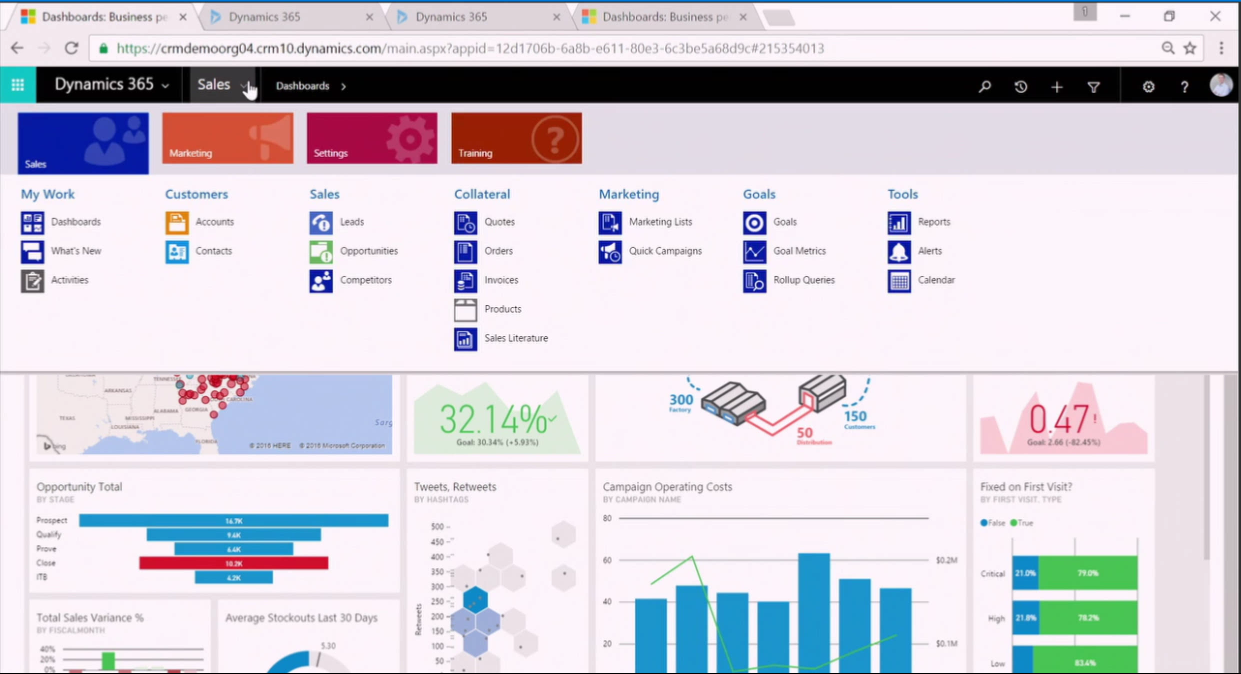 Hier ist übrigens embedded Power BI deutlich erkennbar.
Am 1.11.16 wird aus Microsoft CRM Online Microsoft Dynamics 365. Eine genaue Übersicht, welche Lizenz in welchen Plan übergeht habe ich hier gefunden:

Im Lauf des Januars 2017 wird Microsoft Dynamics 365 Plan 1 als eine IUR-Leistung (Lizenzen für die interne Nutzung) für Action Pack- und Kompetenzpartner ergänzt und ersetzt damit Dynamics CRM Online IUR für Action Pack-, Kernkompetenz- und Cloud CRM-Kompetenzleistungen.
Dynamics 365 Enterprise Operations  / Integration in Dynamics AX
Klickt man auf Operations landet man im AX, wiederum an der URL erkennbar.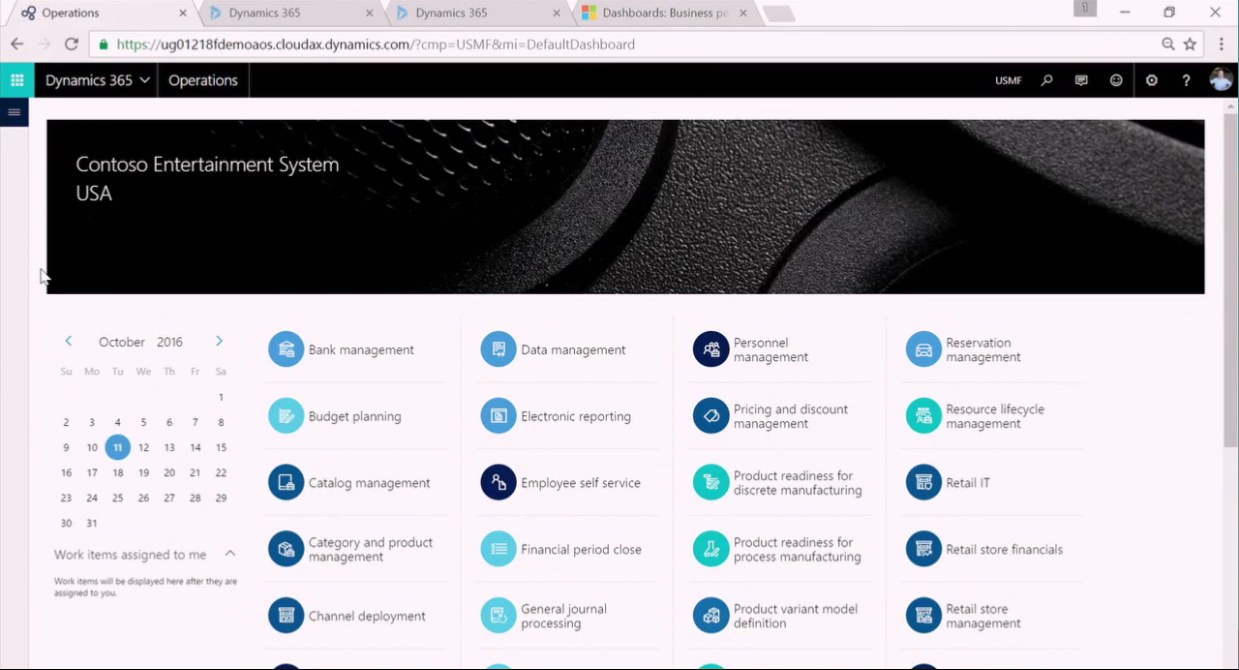 Und natürlich sind auch alle dahinterliegenden Datenbanken verbunden, sodass ein Eintrag eines neuen Artikels im CRM, diesen auch im AX anlegt: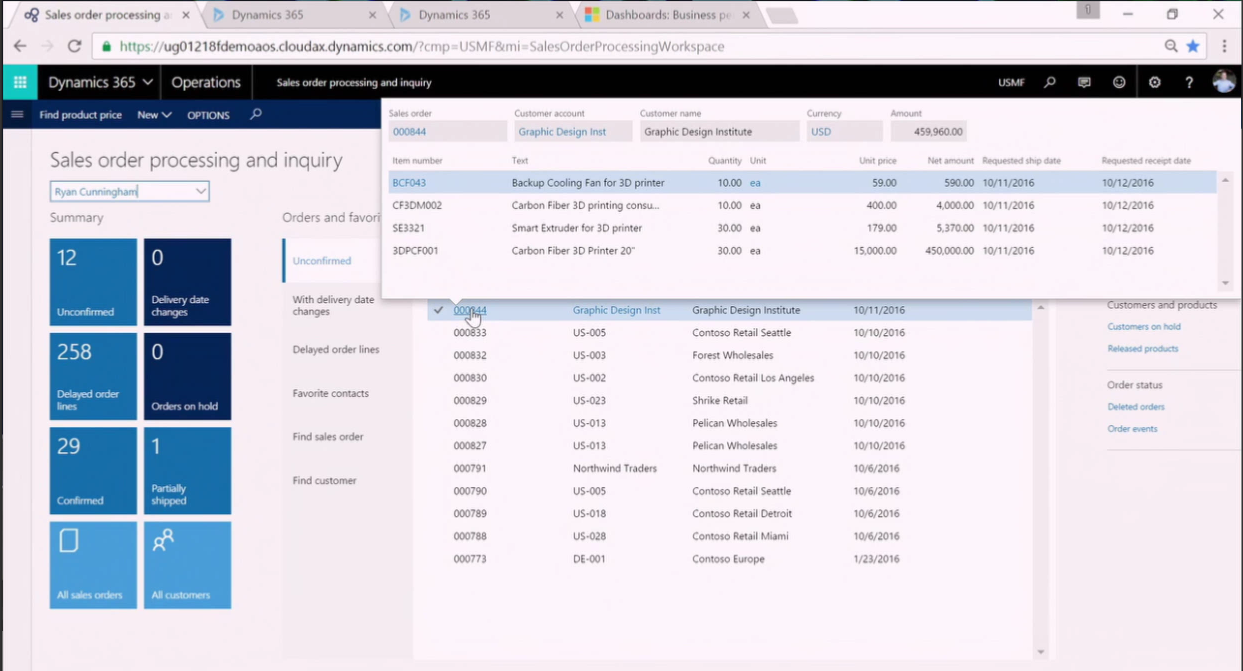 Integration in Outlook
Der animierte ScreenShot der Microsoft Produktseite zeigt schon recht gut, wie Dynamics 365 sich in Outlook integriert. Dies geschieht hier im Browser, um unteren ScreenShot kann man aber auch die Integration in Outlook 2016 erkennen.

Über Templates kann auch direkt eine Mail-Textvorlage ausgewählt und versendet werden. Der Dynamics 365 Button im Menüband öffnet die seitliche Leiste.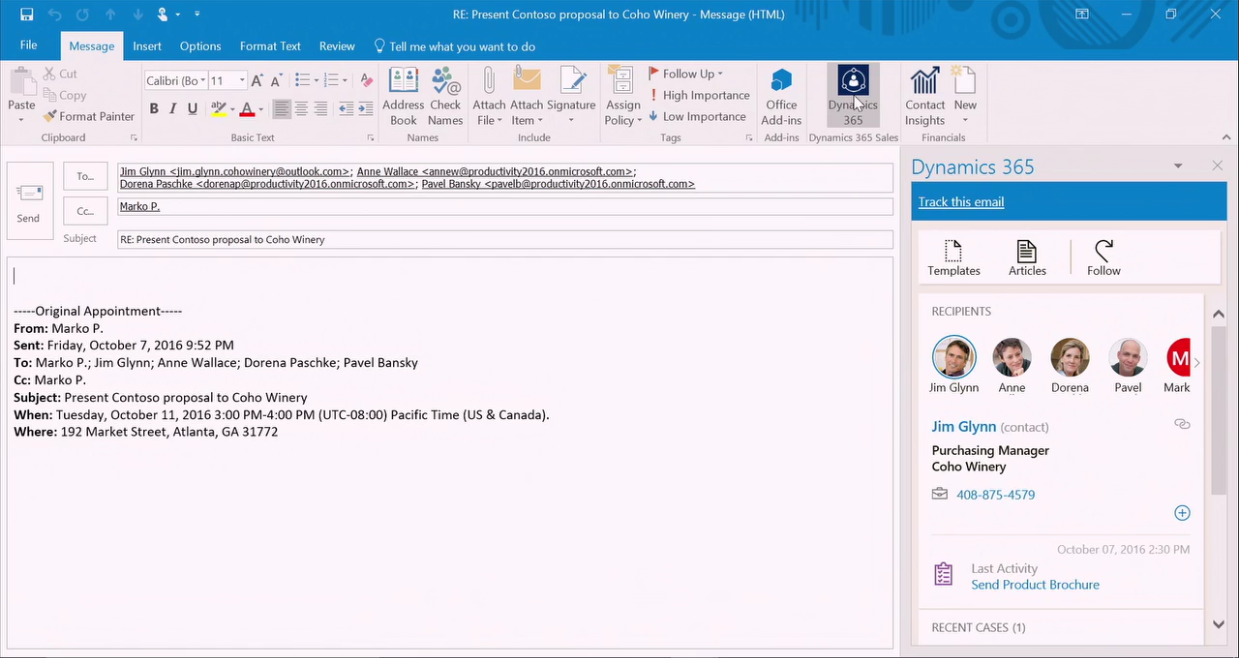 Zu einem Meeting im Outlook-Kalender wird direkt eine Verknüpfung hergestellt, mit allen verknüpften Informationen, ob diese aus dem Outlook-Termin kommen, wie die Teilnehmer des Meetings, oder im CRM Informationen zu ihnen oder zum Termin als Aktivität.
Integration …
…mit Machine Learning für Predictive Analytics, Cortana Analytics, Azure, AppSource, embedded Power BI, Power Apps, Flow  und vielem mehr. Weitere Infos hierzu in Kürze!
Dynamics 365 for Financials (Project Madeira)
Financials ("Project Madeira") wird wohl die erste Applikation sein, die zunächst in USA und Kanada im Oktober 2016 live gehen soll, während Sales and Marketing Komponenten erst in 2017 zu erwarten sind. Bis alles Dienste auf Deutsch verfügbar sein werden, wird es wohl noch eine Zeit dauern.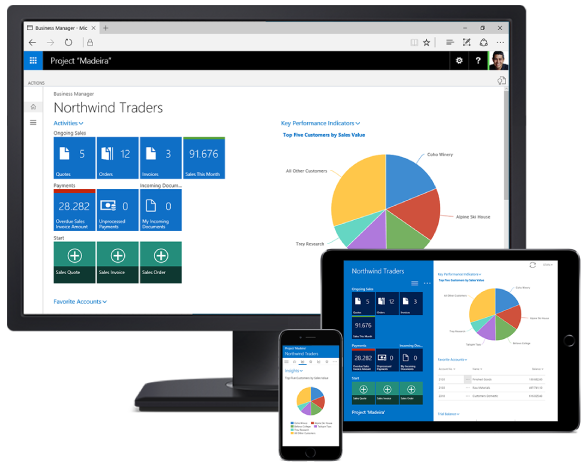 Dynamics 365 Business Edition Financials
enthält dann Project Madeira und andere Komponenten und ist für 1-99 User gedacht. Die Managementlösung umfasst die Bereich Financials, Dimensions, Sales und Purchase Management, Inventory, CRM (Opportunity Management), Multi-Currency und Business Insight.
Noch mit einer Preview-URL versehen, werfen wir einen Blick auf Project Madeira. Der Codename für eine offenbar neue Werkzeug-Welt, die die Zielgruppe Financials hat und als separate Edition verfügbar sein wird.

Dahinter steckt wiederum Cortana Analytics, so dass Auffälligkeiten erkannt und gemeldet werden. Wie in diesem Beispiel, dass andere Artikel dieses Lieferanten zur Neige gehen, und ob man diese gleich mit bestellen möchte.
Dynamics 365 for Fields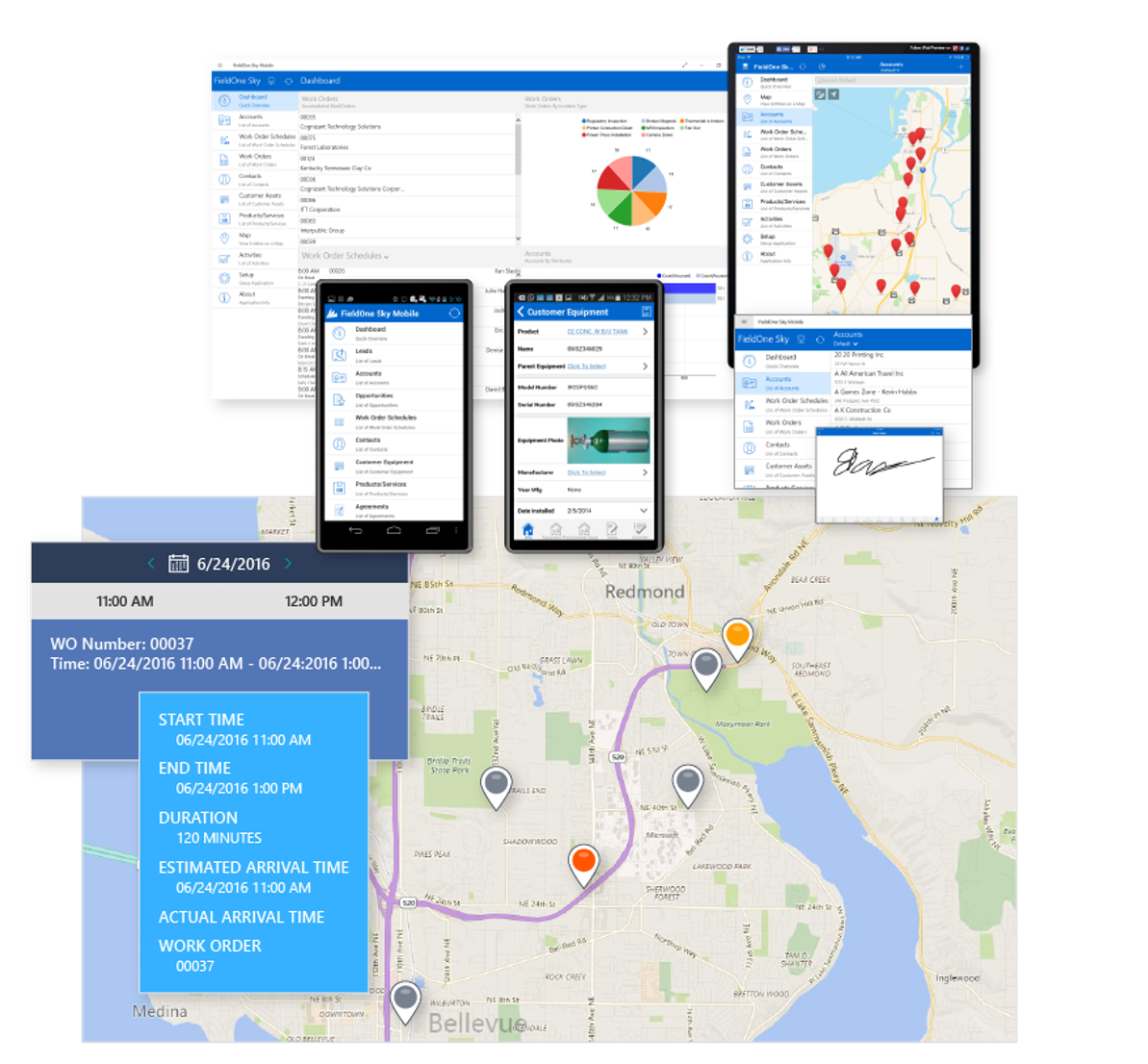 Relationship Insights
Aufgrund dieser Künstlichen Intelligence-Funktionen wird ein ganzer Bereich neu angeboten. Relationship Insights nennt er sich und umfasst Dinge wie Analyse des Kundenverhaltens, um Probleme wie z.B. fehlende Aktivitäten zu einer Opportunity im CRM aufzuzeigen.
Customer Insights
360° Ansicht eines Kunden
Azure Cortana Analytics, Machine Learning integriert.
Microsoft AppSource
Die Plattform ist mit Microsoft AppSource erweiterbar: AppSource ist ein Marketplace für SaaS-Anwendungen und erlaubt es, umfassende Lösungen zu schaffen mit Services von Microsoft und seinen Partnern.(http://appsource.microsoft.com/de-de)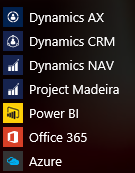 AppSource ist aber auch direkt aus der Homepage von Dynamics 365 erreichbar: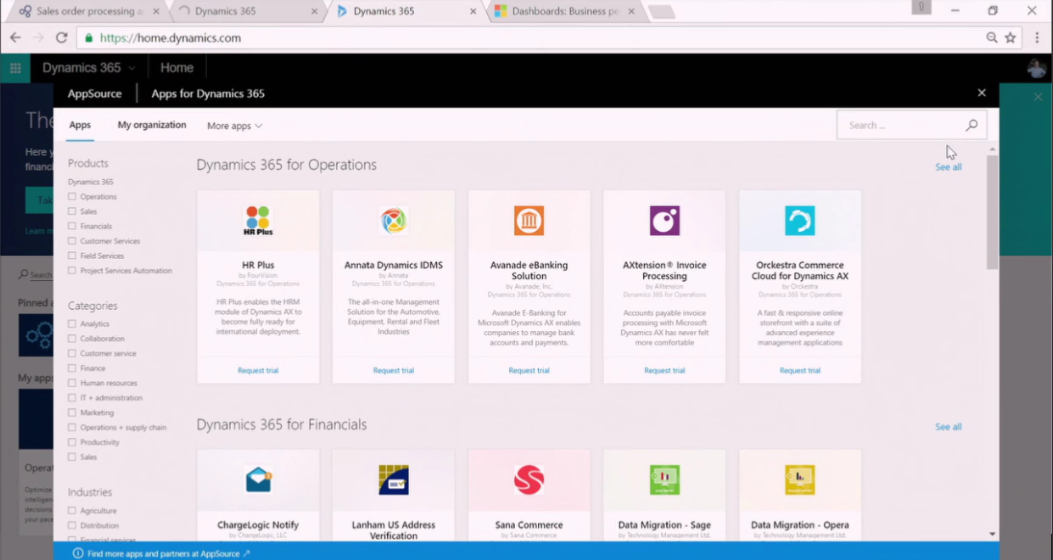 Auch PowerApps, Power BI für Built-in Insights und prädiktive Intelligence, Microsoft Flow für Workflows ohne Coding reduzieren die Integrationskosten.

Mit Dynamics 365 löst sich Microsoft einmal mehr vom "Software pro Paket"-Ansatz und bietet "Software pro Rolle des Kunden", also Lösungsorientiert und aus der Cloud. Hierüber wird sich auch die Lizenzierung ändern und das Zubuchen von einzelnen Diensten leichter machen.
Mobile Apps
Natürlich wird Dynamics 356 sofort auch auf SmartPhones laufen. Android und iOS werden unterstützt.  Und immerhin: Auch Windows 10 Mobile.
In den Mobile Apps soll es eine Offline-Fähigkeit geben.
Wichtige Links