Am 12.7.17 hat Microsoft auf der Weltweiten Partnerkonferenz, die ja jetzt Inspire heißt angekündigt, dass es zwei neue Suiten geben wird, die noch mehr einzelne Produkte zu rundumschlags-Lösungen zusammenfassen. Unter dem Namen Microsoft 365 werden für größere und kleinere Kunden die bereits bekannten Bundles nochmals gebundelt und über das CSP Programm angeboten.
Wir haben am 25.9.17 ein skilllocation Online-Seminar für unsere Abonnenten durchgeführt, dieses wurde auch aufgezeichnet und liegt im Extranet.
Microsoft 365 Enterprise E3 und E5
Analog zu den Office 365 Plänen gibt es auch hier eine E3 und E5 Suite. Sie umfasst
Office 365 Enterprise E3 bzw. E5
Windows 10 Enterprise E3 bzw. E5
Enterprise Mobility + Security E3 bzw. E5
Hatten wir das nicht schon? Korrekt, bislang trug dieses Bundle den Namen Secure Productive Enterprise SPE.
Daher nicht wirklich neu, außer der Name und: Microsoft 365 Enterprise wird die Secure Productive Enterprise auch ersetzen. (Quelle)
Microsoft 365 Enterprise E3 und E5 sind ab 1.8.17 verfügbar über EA, EAS, MPSA, CSP (offenbar nicht über Web Direct, also direkt von Microsoft). (Quelle)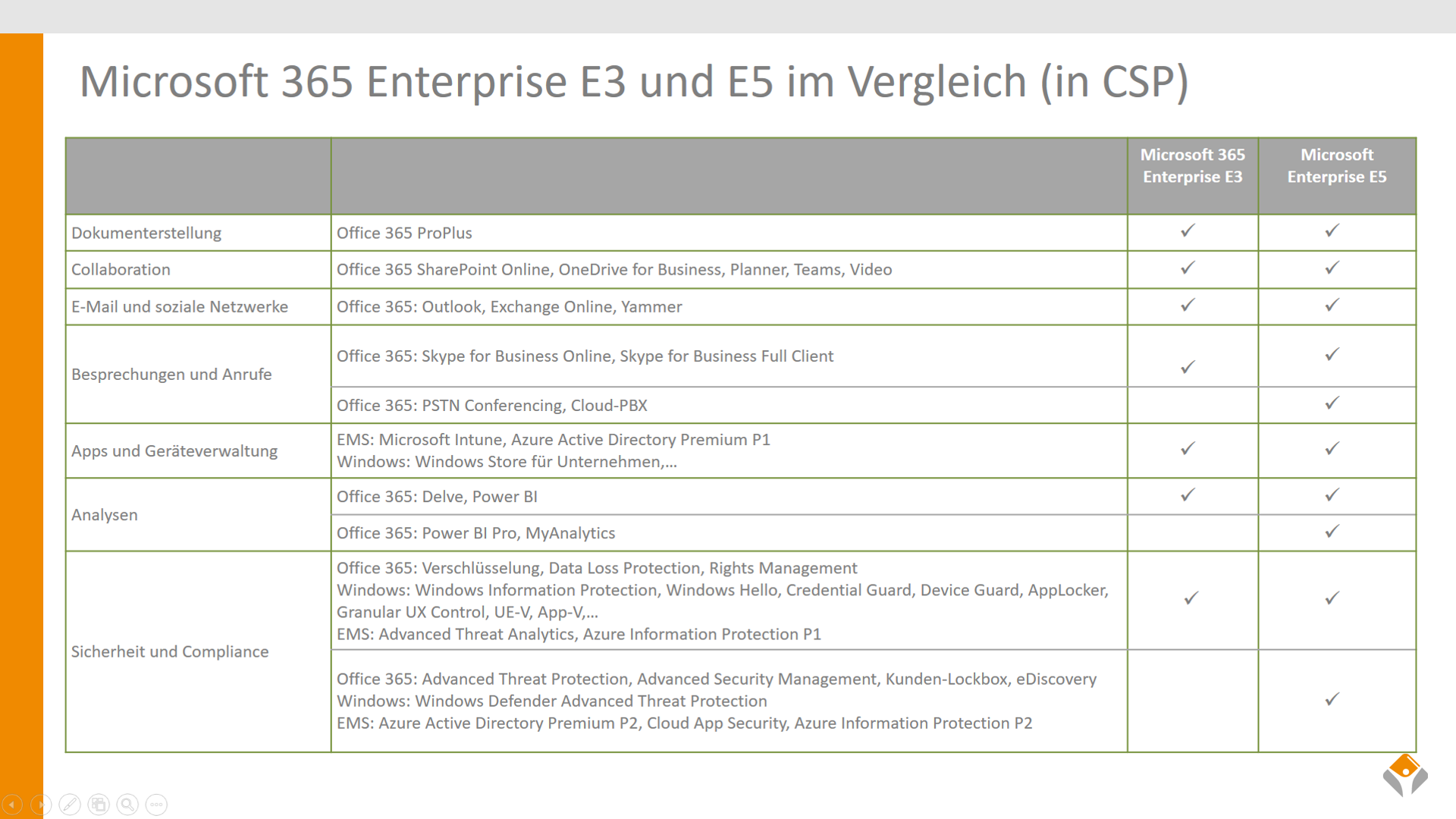 Microsoft 365 Business
Wie jetzt zu erwarten ist, umfasst die neue Microsoft 365 Business Suite für bis zu 300 User als eigene SKU folgende Inhalte:
Office 365 Business Premium (Damit auch Bookings, Teams, Outlook Customer Manager etc.)
Windows 10 Pro plus erweiterte Funktionen (nennt sich Windows 10 Business):
– Windows AutoPilot (NEU)
Zero-Touch Deployment of new Windows 10 Devices (Azure AD, Intune,…): https://docs.microsoft.com/de-de/windows/deployment/windows-10-auto-pilot
Funktioniert ab Windows 10 Pro Creators Update (Ver 1703): User verbindet sich mit dem Internet, kommt auf eine Anmeldeseite, gibt sein Azure-Account an und der Rechner wird vollkonfikuriert und in das Mobile Device Management enrolled wird.
– Windows Defender Security Controls
   Es kann z.B. festgelegt werden, dass Defender automatisch angeschaltet wird und nicht deaktiviert werden kann. Auch das Automatic Update sowie das Management der Store Apps kann hierüber gemanaged werden.
– Automatically deploy Office apps to Windows 10 PCs (NEU)
Auch Office (Klick2Run, C2R) wird automatisch heruntergeladen, dh. der User muss es nicht mehr extra downloaden.
Einige Funktionen von Microsoft Intune / Enterprise Mobiltity + Security
– "Protect company data across devices": Android und iOS Apps können so eingestellt werden, dass private Daten von Business Daten getrennt gehalten werden
– Device Management for Windows PCs
– Selective Wipe for Business Apps / Company Data
Hinzukommen außerdem drei weitere Neuerungen (die zu Office 365 Business Premium und damit auch in Microsoft 365 Business ergänzt werden):
Microsoft Connections A simple-to-use email marketing service.
Microsoft Listings An easy way to publish your business information on top sites.
Microsoft Invoicing "A new way to create professional invoices and get paid fast.
Microsoft Connections, Microsoft Listings, and Microsoft Invoicing—which join Microsoft Bookings, Outlook Customer Manager, and MileIQ to create a suite of capabilities to help small businesses grow and thrive. These new apps are now available in Microsoft 365 Business and Office 365 Business Premium for customers in the U.S., U.K., and Canada. (Quelle)
In den FAQs (hier) taucht bereits der Begriff Windows 10 Business bzw. sogar Windows Business auf:
"Windows 10 Business is a set of cloud-services and device management capabilities that complement Windows 10 Pro and enable the centralized management and security controls of Microsoft 365 Business. Windows 10 Business also comes with Windows Autopilot, a service that streamlines the deployment of new Windows 10 PCs. If your customers have devices that are licensed for Windows 7, 8 and 8.1 Professional, Microsoft 365 Business provides an upgrade to Windows 10 Pro."
Mit der Microsoft 365 Business Lizenz erhält der Kunde das Upgrade-Recht auf Windows 10 Pro (kommend von Windows 7, 8 und 8.1 Pro).
Preise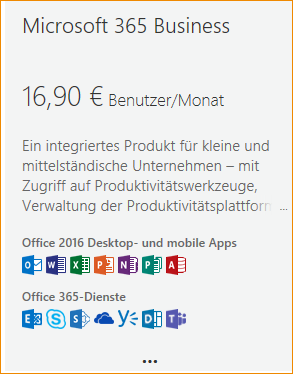 Microsoft 365 Business wird es direkt bei Microsoft geben (MOSA/Web direct) oder über CSP Partner.
Kunden können M365 mit anderen Azure oder Office 365 Plänen kombinieren oder switchen.
Systemvoraussetzung
Windows 7, 8.1 oder 10 Professional mit ver 1703
Voraussetzung hier wird das Azure AD sein
Verfügbarkeit (RTM RTW GA) der Microsoft 365 Business war am 31.10.17.
Microsoft Produktwebseite: https://www.microsoft.com/de-de/microsoft-365/business
Microsoft 365 Business kann mit anderen Plänen gemischt werden. Man kann einem User Office 365 Enterprise oder auch Microsoft 365 Business zuweisen: (Der ScreenShot ist aus unserem Office 365 E3 Portal:)