Microsoft Enterprise Mobility Suite (EMS) jetzt: Enterprise Mobility + Security
In einem Satz
Microsoft Enterprise Mobility + Security ist eine Suite zum Verwalten und Schützen aller Endgeräte egal ob iOS, Android, Windows, Windows RT oder Windows Phone.
Ausführliche Beschreibung
Neu ab August 2016 – Kurzzusammenfassung:
Enterprise Mobility Suite wird zu Enterprise Mobility + Security E3
– Keine Änderung für bestehende Kunden.
– Ein neuer erweiterter Plan in Q4 2016 wird Enterprise Mobility + Security E5.
Azure AD Premium wird zu Azure AD Premium P1
– Keine Änderung für bestehende Kunden.
– Azure AD Premium P2 (ab 15. September 2016) wird zusätzlich Identity Protection and Privileged Identity Management enthalten.
Azure Rights Management Premium wird zu Azure Information Protection Premium P1 in Q4 2016
– Keine Änderung für bestehende Kunden.
– Azure Information Protection Premium P2 wird zusätzlich Automatic Classification enthalten.
Damit ergibt sich folgende Paketierung:
Die Basis für jeden User bildet das Betriebssystem.
Cross-Selling ist Office 365 für Produktivität und ggf. CRM Online
Der User und sein Device müssen gemanagt werden Mobile Device Management (MDM)und Application Management (MAM) durch Intune
Dann kommt Security hinzu. Identitätsmanagement, Zugriff und Dokumentenschutz und oben drauf ATA.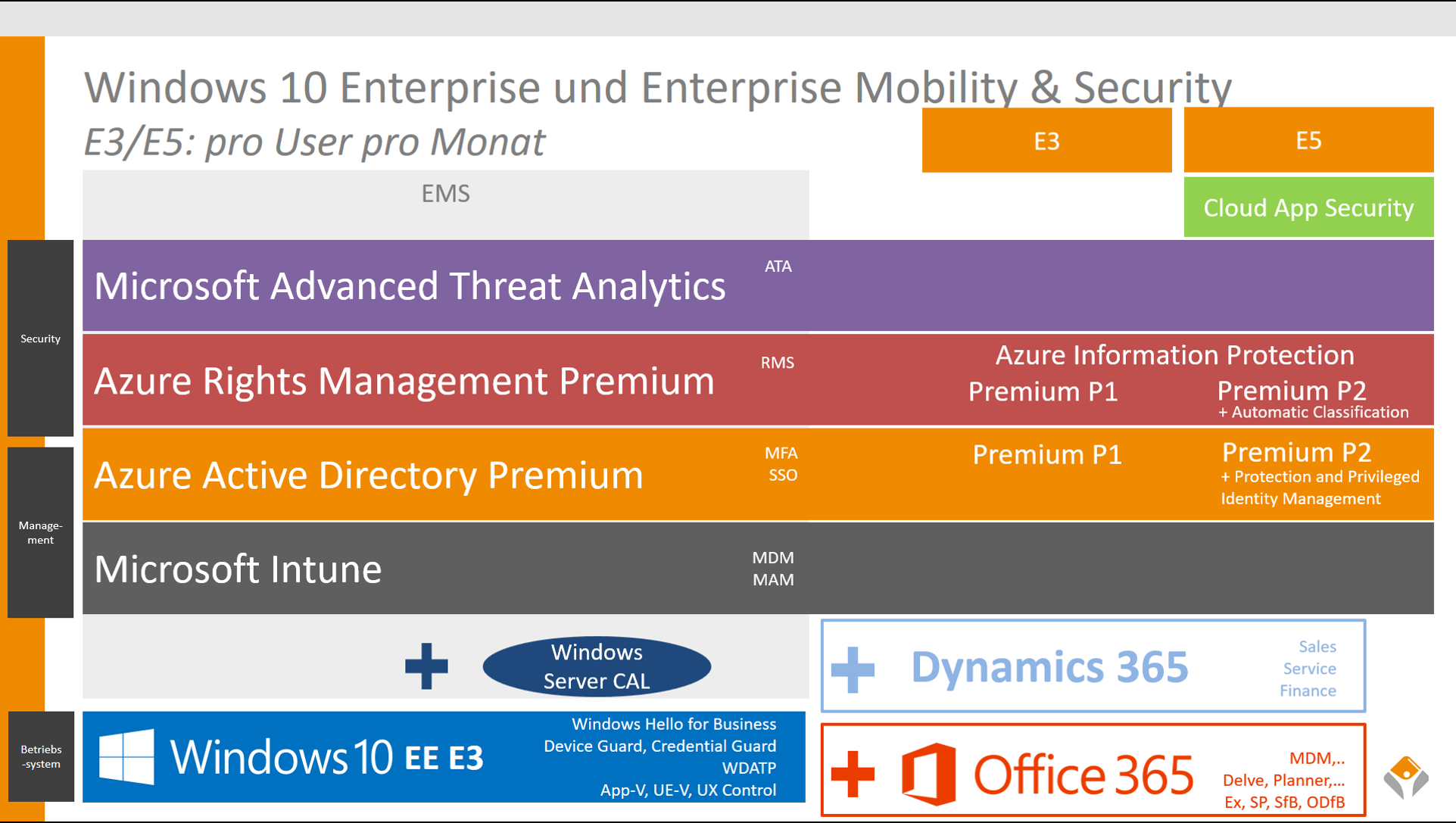 Für unsere Abonnenten gibt's diese Grafik als animierte PowerPoint in unserem geschützten SharePoint Online Extranet zum Download.
Die neue Microsoft Enterprise Mobility + Security (EMS) umfasst mehrere Lösungen:
Microsoft Advanced Threat Analytics ATA (siehe unten)
Windows Server CAL (User)
und führt damit Geräte-, Identity-, Access- und Security-Management auf einer Oberfläche und in einem Lizenzbundle zusammen.
Hinweis: bislang war eigtl. auch ein Forefront Identity Manager als lokale Installation bzw. Lizenz mit enthalten, die scheint aber rausgefallen zu sein…. Und dafür ist bereits der Microsoft Identity Manager 2016 via CAL mit drin.
Wichtige Funktionen
Preise  (Stand 10.11.17)

EMS im Open Vertrag ab 01.03.2015
Mit dem 01. März 2015 wird die Enterprise Mobility Suite als volle User Subscription Lizenz im Open Vertrag (Open License, Open Value und Open Value Subscription) verfügbar sein.
Auf Grund der vollen User Subscription Lizenz ist keine Anforderung an eine bestehende Core CAL oder Enterprise CAL Suite erforderlich.
Eine Enterprise Mobility + Security User Subscription License kann für den Zugriff auf die Microsoft Online Services und die eigenen Server im Intranet genutzt werden.

Beispiel:

• Kunde lizenziert EMS pro Nutzer

• Der lizenzierte Benutzer greift mit der USL auf die Azure Services (Azure Active Directory Premium Services)

• Das Unternehmen lizenziert Windows Server Lizenzen für den eigenen On-Premise Server.

• Der lizenzierte Benutzer kann mit der USL auf die eigenen On-Premise Windows Server zugreifen
http://www.microsoft.com/de-de/server-cloud/products/enterprise-mobility-suite/default.aspx
Mobile Device Management ist kein neues Thema bei Microsoft: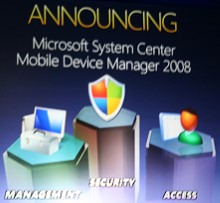 Der Mobile Device Manager wanderte dann in den Exchange Server: "Exchange via Exchange ActiveSync is the most commonly used MDM solution in the world". MDM zieht nun auch in Office 365 ein: https://www.skilllocation.com/office-365-2013
Wichtigste Funktionen / Features
Die Funktionsbeschreibungen der einzelnen Dienste der EMS befinden sich auch in den jeweiligen Produktseiten!
Carola Pantenburg hat ein YouTube-Video öffentlich dazu gemacht. Unsere Abonennten haben natürlich Zugriff auf unsere Folien dazu und können diese im eigenen CI verwenden.
Azure AD Premium
Self-Service-Kennwortrücksetzung für Mitarbeiter zur Reduzierung der Helpdesk-Anrufe
Optionen für mehrstufige Authentifizierung als zusätzliche Sicherheit
Gruppenbasierte Bereitstellung und Single-Sign-On für über 2400 SaaS-Apps (ab 10 SaaS-Anwendungen kostenpflichtig)
Auf Machine Learning basierende Sicherheitsberichte zur Identifikation und Verwaltung von Bedrohungen
Stabile Synchronisierungsfunktionen von Cloud Active Directory und On-Premise Active Directory
Microsoft Intune
Mobile, geräteübergreifende Anwendungsverwaltung
Umfassender Gerätesupport für Windows-, Windows Phone-, Apple iOS- und Android-Geräte
Selektive Zurücksetzung (Selective Wipe) von Apps und Daten für höhere Sicherheit
Endpoint Protection
etc.
Azure-Rechteverwaltung / Rights Management
Dokumentenschutz in der Cloud oder in einem Hybridmodell – nicht nur für Office-Dokumente
Integration in systemeigene Anwendungen mit einem kostenlosen SDK
heißt jetzt Azure Information Protection
Microsoft Advanced Threat Analytics
Microsoft Advanced Threat Analytics ist eine on-Premise Lösung und hilft Ihnen, Verstöße und Bedrohungen mithilfe von Verhaltensanalysen aufzudecken und einen übersichtlichen Bericht zu erstellen.
Seit 01. August 2015 ist die neue Security-Lösung Microsoft Advanced Threat Analytics ATA verfügbar, mit der IT-Verantwortliche in Unternehmen Eindringlinge in und Angriffe auf das Netzwerk zielgerichtet blockieren können. ATA analysiert hierfür das Nutzerverhalten und ermittelt mithilfe von maschinellem Lernen (Machine Learning = Azure Dienst) normales und abnormales Verhalten. Darüber hinaus nutzt ATA eine rollenbasierte Analyse, um auch hochentwickelte Angriffe wie Pass-the-Ticket, Pass-the-Hash, Overpass-the-Hash, Golden Ticket, Skeleton Key Malware und ähnliche Attacken in Echtzeit zu erkennen. Auch bekannte Fehler in der Konfiguration, die ein Sicherheitsrisiko darstellen können, können identifiziert werden.
Mithilfe einer detaillierten Paketprüfungstechnologie analysiert Microsoft Advanced Threat Analytics den gesamten Active Directory-Traffic. Zudem können relevante Ereignisse aus SIEM und anderen Quellen erfasst werden. Advanced Threat Analytics nutzt Machine Learning, um aus dem Verhalten von Benutzern, Geräten und Ressourcen Profile zu erstellen und daraus zu lernen. Dabei entsteht die Organizational Security Graph, eine Übersicht über Entitätsinteraktionen, die den Kontext und die Aktivitäten der Benutzer, Geräte und Ressourcen veranschaulicht. Nach der Erkennung verdächtiger Aktivitäten, bekannter Sicherheitsrisiken und böswilliger Angriffe beinahe in Echtzeit stellt Advanced Threat Analytics übersichtliche, funktionelle, reaktionsfähige Informationen in einer übersichtlichen Angriffschronik dar. Weitere Infos zu "How it works" (Microsoft, EN).
ATA wird als Stand-Alone-Lösung  über eine Client-Management-Lizenz sowie als Teil der Enterprise Mobility Suite (EMS), der Enterprise Cloud Suite (ECS) sowie der Enterprise Client Access License (ECAL) angeboten werden.