Still und heimlich hat Microsoft am 18. August 2021 den Windows Server 2022 als LTSC veröffentlicht. Zunächst für die OEMs, aber auch die ISOs sind bereits zur Evaluierung downloadbar. 5 Jahre Mainstreamsupport und 5 Jahre erweiterten Support aber keine Feature Updates. Der Support geht bis zum 13.10.2026 und der erweiterte Support bis zum 14.10.2031. Und teurer wird's auch.
Neue Funktionen
Tatsächlich hat Microsoft auch viele Innovationen in die neue Server-Version für On-Premises Infrasturkturen eingebaut im Bereich Sicherheit, Anwendungsplattform sowie Hybridintegration & -Verwaltung in Azure.
Windows Server Software-Defined (WSSD)
Datacenter für höhere Effizienz
Secured-Core-Lösungen mit mehrschichtigen Sicherheitsstufen
Windows Admin Center für einfachere Verwaltung
Virtualisierung von Remote-Desktops & -Apps
Containerisierung für flexible Bereitstellung moderner Apps
Darüber hinaus hilft er die Vorteile der Cloud zu nutzen, VMs auf dem neuesten Stand zu halten und gleichzeitig Ausfallzeiten zu minimieren. Eine Modernisierung mit Windows Server 2022, dem cloud-bereiten Betriebssystem, zahlt sich definitiv aus.
Editionen
Hier hat sich im Wesentlichen nichts an der Lizenzierung der Editionen und ihrer Unterschiede geändert.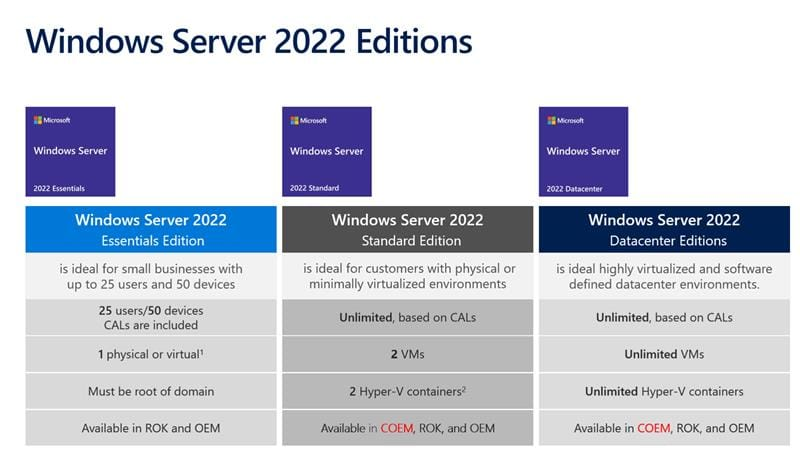 Windows Server 2022 Standard
Windows Server 2022 Datacenter
Windows Server 2022 Essentials
Es wird keinen separaten kostenfreien Hyper-V Server 2022 geben! Microsoft empfiehlt stattdessen (natürlich erstmal Azure und die Cloud), oder dann
"Azure Stack HCI is Microsoft's premier hypervisor offering for running virtual machines on-premises." Zum Testen und Evaluauieren gibt es von Azure Stack HCI eine 60-Tage free trial zum Download:  https://azure.microsoft.com/en-us/products/azure-stack/hci/hci-download/
Microsoft Hyper-V Server 2019 will continue to be supported under its lifecycle policy until January 2029, see this link for additional information: https://docs.microsoft.com/en-us/lifecycle/products/hyperv-server-2019
Windows Server 2022 Essentials
Windows Server Essentials 2022 verwendet KEINE dedizierten Bits mehr. Stattdessen werden Windows Server 2022 Standard Bits verwendet. Sie müssen Windows Server 2022 Standard installieren, aber den Essentials-Key zur Aktivierung verwenden. Nach der Aktivierung meldet sich Windows Server 2022 Essentials als "Standard" zurück. Dies ist das erwartete Verhalten. Es gibt ein paar Konsequenzen:
1.) Administratoren und Lizenzmanager werden nicht in der Lage sein, zuverlässig zwischen Standard und Essentials zu unterscheiden, indem sie ihre vertrauten Reporting-Tools verwenden.
2.) Der Code enthält keine technischen Einschränkungen, die Kunden daran hindern, Windows Server Essentials unbeabsichtigt übermäßig zu verwenden.
Neue Funktionen
Windows Server 2022 bietet einen mehrstufigen Security-Ansatz auf Basis von Secured-Core Server und Secured Connectivity:
Secured-Core Server bedeutet, dass Hardwarepartner Hardware, Firmware und Treiber zur Verfügung gestellt haben, um dabei zu helfen, die Sicherheit von kritischen Systemen zu erhöhen. IT- und SecOps-Teams können mit Secured-Core Server über Hardware-, Firmware- und Virtualisierungs-Ebenen hinweg Sicherheit gewährleisten.
Secured Connectivity fügt eine weitere Sicherheitsebene während des Datentransfers hinzu. Die neue Version bietet ein schnelleres und sichereres verschlüsseltes Hypertext Transfer Protocol Secure (HTTPS) und eine AES-256-Verschlüsselung mit Unterstützung für das Server Message Block (SMB) Protokoll.
Um die zunehmende Zahl von Hybrid- und Multi-Cloud-Infrastrukturen bestmöglich zu unterstützen, bringt Windows Server 2022 eine Reihe neuer Möglichkeiten mit sich. Dazu gehört der Azure-Dienst Azure Arc, mit dem Cloud-Dienste auch On-Premises mit Windows Server 2022 genutzt werden können.
Darüber hinaus erhalten Unternehmen die Möglichkeit, die Vorteile der File Server-Erweiterungen wie SMB Compression zu nutzen. SMB Compression verbessert die Übertragung von Anwendungsdateien durch Komprimierung der Daten während der Übertragung über ein Netzwerk. Schließlich bietet Windows Admin Center moderne Server-Verwaltungsfunktionen wie eine neue Event Viewer-Funktion und Gateway-Proxy-Unterstützung für Szenarien mit Azure-Anbindung.
Hilfreich sind auch die Verbesserungen im Bereich Skalierbarkeit: Windows Server 2022 unterstützt
2.048 logische Kerne, die auf 64 Sockets laufen
Weiterentwickelt wurden außerdem die Windows Container: So verbessert Windows Server 2022 die Anwendungskompatibilität, enthält HostProcess-Container für die Knoten-Konfiguration, unterstützt IPv6 und Dual-Stack und ermöglicht eine konsistente Implementierung von Netzwerkrichtlinien mit Calico.
Weitere Informationen
hier: https://docs.microsoft.com/de-de/windows-server/get-started/whats-new-in-windows-server-2022
Das Windows Server Evaluation Center bietet Optionen zum Testen von Windows Server auf Azure oder zum Download.
Windows Server im Azure Marketplace für die Ausführung in virtuellen Maschinen auf Azure.
Im Volume Licensing Service Center können Volumenlizenzkunden Windows Server 2022 herunterladen.
Weitere Informationen zu den Editionen und Preisen von Windows Server 2022 finden Sie in der Preisübersicht.
Und eine durchaus wesentliche Info hat Microsoft noch stiller auf einer Webseite hinzugefügt:
Microsoft 365 Apps wird auf Windows Server 2022 nicht unterstützt, obwohl Windows Server 2022 bis Oktober 2031 unterstützt wird. (Quelle)
Der Terminal Server ist tot. Wie komme ich zu der Aussage? Das erläutere ich auf meinem separaten Blog-Beitrag: Der Terminal Server ist tot. | Carola Pantenburg – Blog (wordpress.com)