Bereits auf der Ignite im Oktober 2017 hat Microsoft die nächste Office Version Office 2019 angekündigt. Auf der Ignite 2018 wurde nun die Veröffentlichung (Global Availability GA) bekannt gegeben. Am 24.9.18 ist Office 2019 final und ab 1.10.18 in den Preislisten sowie im VLSC zum Download.
Office 2019 ist eine neue Version der On-Premises-Variante. Ohne Cloud, ohne Update-Zwang und ohne Abo. Viele Kunden werden sich damit nochmal "eindecken", da es eventuell die letzte "perpetual license" also Dauerlizenz-Version sein wird.
Die Microsoft Aussage ob es ein Office nach Office 2019 geben wird ist folgende: "Will there be versions of perpetual beyond 2019?  As standard practice, Microsoft will continue evaluating customer needs and industry trends to determine the need for future versions of our products and Services." (Quelle)
Auf der Ignite 2018 war jedoch zu hören, dass es wohl einen Nachfolger Office 2022 geben wird…
Strategisch haben wir ein paar Sätze auf unserer Office 365 – 2019 dazu verfasst:
Editionen
Zwei Varianten:
Office 2019 for Windows
Office 2019 for Mac
Und mehrere Editionen: (keine davon im CSP-Vertrag!)
Office 2019 Home & Student
Office 2019 Home & Business
Office 2019 Professional
Office 2019 Standard
Office 2019 Professional Plus
"Mit Office 2019 bekennen wir uns zu unserer Verpflichtung, allen Kunden eine Lösung zur Verfügung zu stellen, von On-Premises über hybride bis hin zu rein cloudbasierten Umgebungen. Office 2019 wird neue Funktionen bringen, darunter zum Beispiel verbesserte Druckempfindlichkeit bei der Stifteingabe und mit der Stiftneigung gekoppelte Effekte sowie eine Replay-Funktion bei der Handschriftenanwendung Ink, die das Schreiben in der eigenen Handschrift noch intuitiver und natürlicher macht. Zudem wird es für Excel neue Formulare und Diagrammtypen geben, die Datenanalysen noch einfacher und besser machen. Die neue PowerPoint-Version wird außerdem weitere Animationen für Präsentationen mitbringen. Die Cloud ist nach wie vor die Basis unserer zentralen Produktivitätslösungen, und Office 365 bleibt für uns eine der wichtigsten Lösungen aus der Cloud. Das hat nicht zuletzt die Ignite gezeigt. Aber wir sehen bei manchen Kunden, dass der Weg in die Cloud mitunter länger dauert und von vielen Überlegungen zum Umstieg begleitet ist. Office 2019 ist unsere Antwort auf manche dieser Fragen und auf die Wünsche einiger Kunden."
Wichtige Informationen
Was wir schon wissen: (Details siehe unten)
RTM/GA 24.9.18
10%ige Preiserhöhung (wohingegen Office 365 nicht erhöht wird!)
Der Support (Lifecycle) ist nur noch 5 + 2 Jahre, dh. nicht mehr 5 Jahre Mainstream und 5 Jahre erweiterter Support
OneNote 2019 wird es nicht geben
Läuft nur mit Windows 10, nicht mehr mit Windows 7.
Die Installationstechnologie ist Click-to-Run und nicht mehr Windows Installer mit .MSI
Es wird weiterhin eine 32-bit und eine 64-bit Variante geben mit der gleichen Empfehlung, die 32-Bit zu verwenden.
Die interne Versionsnummer bleibt bei ver 16.0, dh. ändert sich gegenüber Office 2016 nicht. Die komplette Versionsnummer: 16.0.10730.20102
Die erste Installation
Die Installation ergab folgende interessante Entdeckung:
Wir haben am 1.10.18 über das VLSC ein Office 2019 Professional Plus heruntergeladen, bzw. das Deployment Tool, welches dann die Software zieht.
Zunächst wurde folgende Version installiert: ver 1808 mit der Buildnummer:  Ver 16.0.10730.20127
Dann haben wir Updates aktualisiert, was ja eigentlich gar nicht möglich sein soll, da Office 2019 ja keine Funktionsupdates erhalten wird.
Nun ergab sich die Versionsnummer ver 1809. Diese ist identisch wie die in Office 365, aber Achtung. Die Inhalte sind es nicht.
Hieraus folgt: Microsoft hat offenbar einen Split gemacht, und ein Office 2019 veröffentlicht, bei dem einige Tage später die Office 365 Variante neue Features wie z.B. eine neue UI (Oberfläche) erhielt, Office 2019 aber bei der alten bleibt.
Die Oberfläche von Office 2019
Hier die Menübänder (Ribbons) im Vergleich: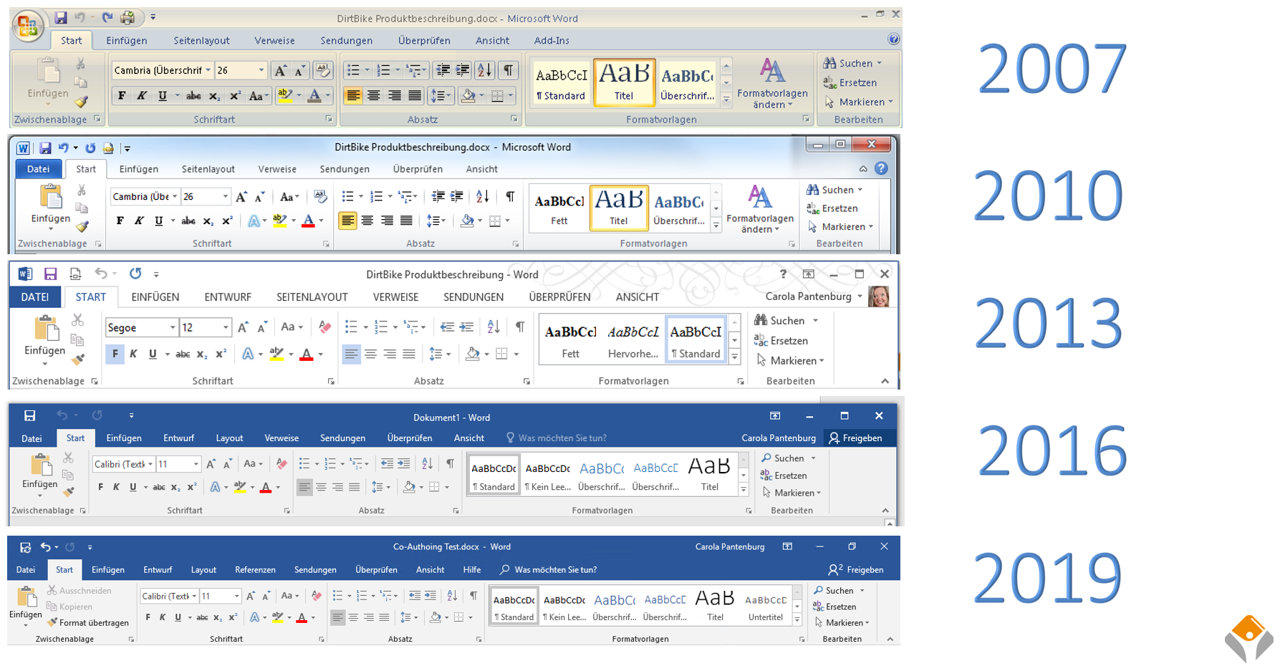 Wie man erkennen kann gibt es in Word gegenüber der Version 2016 2 Super Neuerungen: Verweise heißt jetzt Referenzen und es wurde wieder die Hilfe eingeführt….
Weder Dateiformate noch Makros noch sonst irgendetwas architektonisches ändert sich.
Office 2019 nur auf Windows 10!
Office 2019 wird nur unter Windows 10 (SAC) installierbar sein. Die perpetual License Version (zeitlich unbefristete Lizenz) Office 2019 wird also nicht auf Windows 7 laufen. Und auch bei Windows 10 werden nur die im SAC (Semi Annual Channel) unterstützten Versionen funktionieren, also eine Windows 10 ver 1607 ist bereits raus!
Office 2019 wird unterstützt auf der Windows 10 Enterprise 2018 Long-Term Servicing Channel (LTSC) sowie der nächten Version von Windows Server 2019 (= LTSC ), welche ebenfalls seit 2.10.18 final ist.
Windows Server Semi-Annual Channel versions and earlier versions of Windows Server, such as Windows Server 2016, aren't supported.
Office 365-Abonnenten können Office unter Windows 7 noch bis Januar 2020 verwenden.
Darüber hinaus wird Office 2019 keine 10-jährige Unterstützung wie die meisten früheren Versionen erhalten. Es wird 5 Jahre Mainstream-Unterstützung erhalten, aber nur zwei Jahre erweiterte Unterstützung bekommen.
Eine komplette Kompatibilitätsmatrix mit Lebenszyklus (Product Lifecycle) und Supportendedatum finden unsere Abonnenten wie immer im Extranet mit Abo.
Für nicht-Abonnenten habe ich eine Variante auf slideshare gelegt:

OneNote 2019? Nein!
Es hat sich ja schon herumgesprochen, dass OneNote als klassische Desktop-Anwendung nicht weiterentwickelt wird und somit nicht in Office 2019 enthalten sein wird. Dies gilt auch für die Office 365 Office-Pakete!
"Ab der Veröffentlichung von Microsoft Office 2019 wird OneNote für Windows 10 die standardmäßige OneNote-Benutzererfahrung für Kunden von Office 365 und Office 2019."
Jedoch kann eine vorhandene OneNote 2016 Version weiterverwendet werden. Es kommen nur einfach keine neuen Funktionen dazu. OneNote 2016 wird bis Oktober 2020 mit allgemeinem Support und bis Oktober 2025 mit erweitertem Support unterstützt.
OneNote als App für Windows 10 mit dem Namen OneNote für Windows 10 ist eine kostenlose App. Hier stellt sich die Frage, wie Office 365 User "entschädigt" werden. Hier die Microsoft Antwort:
Während die OneNote-App auf allen Plattformen kostenlos ist, aber nicht alle Funktionen inne hat, erhalten Office 365-Abonnenten Zugriff auf zusätzliche Vorteile, darunter das Erstellen von Notizbüchern auf OneDrive for Business und SharePoint, zusätzlichen Speicher für ihre Notizbücher über das kostenlose OneDrive-Limit von 5 GB hinaus sowie Premium-Features wie den Gleichungs-Assistenten, Recherche und vieles mehr.
Wichtige Funktionen
Gegenüber Office 2016 kommen einige neue Funktionen hinzu, jedoch weit weniger als in Office 365 ProPlus enthalten. Wir listen hier nicht alles auf, da ein "black theme" jetzt nicht soooo der Brüller ist.
Word
Learning tools captions and audio descriptions
Text to speech = Diktieren
Improved inking functionality
Accessibility improvements
Excel
Funnel charts and 2D maps
New Excel functions and connectors
Publish Excel to PowerBI
PowerPivot enhancements
PowerQuery enhancements
PowerPoint
Zoom (das kennen Office 365 Nutzer schon lange)
Morph (das kennen Office 365 Nutzer schon lange)
Insert and manage Icons, SVG, and 3D models (das kennen Office 365 Nutzer schon lange)
Outlook
Updated contact Cards
Office 365 Groups*
@mentions
Focused inbox
Travel and delivery summary cards
Auch das kennen Office 365 Nutzer schon lange. Aber nicht alles, was Office 365 Nutzer schon kennen, ist in Office 2019 gewandert. Daher haben wir unten eine Überprüfung gemacht!
*Requires Exchange online account
Security
Perpetual versions of Office, including Office 2019, do not include a vast number of intelligent security features because data isn't connected to the cloud.  Users that desire our complete suite of intelligent security features should consider migrating to Office 365.
Click-to-Run / Klick-und-Los / C2R     statt      MSI / Windows Installer
Eine der größten Änderungen gegenüber  Office 2016 ist die Installationstechnologie Click-to-Run anstelle des Windows Installer (MSI). Click-to-Run wurde bislang vor allem für die Office 365 Anwendungen verwendet, um eine Streaming-Technologie (App-V) zu nutzen. Damit entsteht auch ein einfacher Upgradepfad zu Office 365-Abonnementprodukten, sollten Kunden dann irgendwann umstellen wollen (oder müssen).
"Updates neue und verbesserte Farbfunktionen in den Anwendungen beinhalten – wie z.B. das Roaming Pencil Case, Drucksensitivität und Neigungseffekte – leistungsfähigere Datenanalyse in Excel – sowie neue Formeln, neue Diagramme und Power BI-Integration – sowie ausgefeilte Präsentationsfunktionen in PowerPoint wie Morph und Zoom".
Allgemein
Funktionen, die wir uns wünschen würden und in Office 365 enthalten sind:
Co-Authoring in Echtzeit, auch für Excel
Dictate für die Echtzeit-Übersetzung

es ist nur die Diktierfunktion, aber ohne Übersetzung mit drin

Autospeichern
PowerPoint Design-Vorschläge (bestätigt, ist drin)
PowerPoint Zoom als Agenda-Folie (bestätigt, ist drin)
 @Erwähnungen (bestätigt, ist drin)
Reiseinfos automatisch in Outlook Kalender
Outlook-Vorlagentexte
Attachments als Link versenden in Outlook
Fokus-Posteingamg (bestätigt, ist drin)
OneDrive for Business Client für SharePoint 2019 On-Premises stattt Groove/SharePoint Workspaces)
Teams: Bislang konnte ich nicht erkennen, ob die kostenpflichtige Variante von Teams enthalten sein wird.
Skype for Business: Laut einer Folie von Microsoft wird SfB wohl enthalten sein. Da es aber abgekündigt ist, stellt sich die Frage, ob eine Version 2019 geben wird mit neuen Funktionen
Neue Funktionen auf den Seiten von Microsoft
Systemanforderungen
Microsoft Office 2019 will be supported on:
Any supported Windows 10 Semi-Annual Channel
Windows 10 Enterprise Long-Term Servicing Channel (LTSC) 2018  (wohingegen Office 365 Pro Plus NICHT auf den LTSC Versionen laufen wird)
(Wir haben getestet, die Preview lässt sich tatsächlich nicht auf der LTSB 2016 installieren)
The next LTSC release of Windows Server
Office 2019 for Mac is supported on the two most recent versions of macOS. When a new version of macOS is released, Office 2019 for Mac's Operating System requirement becomes the then-current two most recent versions at that time: the new version of macOS and the previous version.
"In February 2018, we announced that starting October 13, 2020, customers will need Office 365 ProPlus or Office 2019 clients in mainstream support to connect to Office 365 services. To give you more time to transition fully to the cloud, we are now modifying that policy and will continue to support Office 2016 connections with the Office 365 services through October 2023."
Damit ist also Office 2016 raus, wenn z.B. Exchange Online genutzt wird.
Office 2019 is not supported on Windows 7 or 8. For Office 365, you're supported on Windows 7 or Windows 8 as long as those OS versions are supported.
Office 2019 auf Windows 7?
Wir haben das getestet und tatsächlich erscheint folgende Meldung:
Office 2019 (C2R) and Office 2016 (MSI) cannot run concurrently on either Windows or Mac
Preview-Version
Der Download der Beta-Version "Preview" ist nur über eine Anfrage für die Aufnahme in das Preview-Programm über Microsoft Collaborate möglich gewesen. https://aka.ms/collaborate
Die Preview läuft bis 31. Dezember 2018.