Exchange Server 2019
In einem Satz
Exchange Server 2019 bringt neue Hardwareanforderung, verliert ein Feature in Richtung Cloud und benötigt Windows Server 2019 als Basis. Der Weg führt also wieder vor allem für kleinere und mittlere Unternehmen in Richtung Office 365 und Exchange Online. Der Exchange Server 2019 spricht eher große Unternehmen an.
Ausführliche Beschreibung
Global Availability: 22.10.18 zusammen mit den anderen Office Servern SharePoint, Skype for Business und Project. Durch neue Caching-Möglichkeiten sowie die Unterstützung für Server Core. Dadurch, dass die Funktion Unified Messaging in die Cloud wandert und damit keine Language Packs mehr installiert werden müssen, ist auch die Installationsgröße geschrumpft. Installation lassen sich jedoch neue Szenarien denken, mehr User pro Server, dieser aber nicht als Virtuelle Maschine. Spannend.
Microsoft empfiehlt Exchange 2019 auch besonders für größere Kunden. Alle anderen sollten Exchange Online nutzen.
Exchange 2019 hat die interne Versionsnummer 15.2. Exchange 2010 war ver 14, Exchange 2013 war ver 15, Exchange 2016 war bzw. ist ver 15.1.
Wichtigste Funktionen / Features
Allgemein
Unter­stützung für Windows Server Core: Damit muss Exchange nicht mehr in einer VM installiert werden. Empfohlen!
Das Ausführen von Exchange in einer Windows-Bereitstellung mit weniger Oberfläche bedeutet eine kleinere Angriffsfläche und weniger Komponenten für die Wartung.
Exchange Management Shell on an Exchange Server, the process is still "remoting" to the Server.
(Die Installation von Exchange 2019 auf einem Computer, auf dem Nano Server ausgeführt wird, wird nicht unterstützt.)
SSDs für die Metacache Database MCDB für bestimmte Mailboxen mit aktuellstem Content und Indices aber ohne Attachments (ist nicht zwingend)
Laut Microsoft bringt das: "This results in 50% latency reduction for search in the new search capability (BigFunnel), and 50% reduction in logon. In addition, 20% more users can be loaded per server and 2-3x faster access to mail."
20 Prozent höhere Mailbox-Dichte pro Server durch Meta Caching laut Microsoft
20% smaller install since no UM.
Per-Mailbox-Suchindex
"Searching has traditionally been against the index in Exchange Server or within the OST file. Previously, the shift was to use the index on the Exchange Server to maintain consistency, even if utilizing Cached Exchange Mode (CEM). This has been maintained. However, to further improve consistency and to simplify the platform, the content index is now performed per mailbox and is storage with the mailbox, meaning it is replicated with the mailbox and eliminates one database replica from having inconsistency with another database replica."
BigFunnel ist der neue Suchmechanismus in Exchange Server 2019 basierend auf der Technologie von Bing.
TLS 1.2 only
Server garbage collection is enabled instead of workstation garbage collection
Client Access Rules implemented (Best with 2019 only, co-existence causes problems because there is a move back to proxying to the same server for certain endpoints).
Remove-CalendarEvents to cleanup events (organizer is no longer around).
Mittlerweile ist CPU-Leistung viel günstiger zu haben und kein einschränkender Faktor mehr. Nach dem Überwinden dieser Einschränkung war das primäre Entwicklungsziel für Exchange 2019 die Einfachheit von Skalierung, Hardwarenutzung und Fehlerisolierung. Für Exchange 2019 wurde die Anzahl der Serverrollen auf zwei reduziert: Postfach und Edge-Transport. Unified Messaging (UM) wurde aus Exchange 2019 entfernt.
Unterstützung öffentlicher Ordner für In-Situ-eDiscovery und In-Situ-Speicher: In Exchange 2019 wurden öffentliche Ordner in den Workflow von In-Situ-eDiscovery und -Speicher integriert.
Unified Messaging und Cloud Voicemail
Unified Messaging (UM) has been deprecated in Exchange 2019. This means that Exchange 2019 no longer offers the following features:
If you've deployed the UM role in Exchange 2013 or the UM service in Exchange 2016 and you want to upgrade to Exchange 2019, you'll need to migrate your voicemail to the Microsoft Cloud Voicemail service in Office 365.
Hybrid mit Office 365
Der Assistent für die Hybridkonfiguration (Hybrid Configuration Wizard, HCW) aus Exchange 2013 wird in eine cloudbasierte Anwendung umgewandelt.
Wenn Sie eine Hybridbereitstellung in Exchange 2019 konfigurieren möchten, werden Sie aufgefordert, den Assistenten als kleine App herunterzuladen und zu installieren. Der Assistent funktioniert wie in früheren Versionen von Exchange, bietet aber ein paar neue Vorteile:
Der Assistent kann schnell aktualisiert werden, um Änderungen im Office 365-Dienst zu unterstützen.
Der Assistent kann aktualisiert werden, um bei Kunden beim Konfigurieren einer Hybridbereitstellung aufgetretene Probleme zu beheben.
Verbesserte Problembehandlung und Diagnose helfen bei der Lösung von Problemen, die beim Ausführen des Assistenten auftreten.
Bei allen Benutzern, die eine Hybridbereitstellung mit Exchange 2013 oder höher konfigurieren, wird der gleiche Assistent ausgeführt.
Zusätzlich zu den Verbesserungen im Assistenten für Hybridkonfigurationen werden Hybridbereitstellungen mit mehreren Gesamtstrukturen mit Azure Active Directory Connect (AAD Connect) vereinfacht.
Neue Funktionen auf der Microsoft Webseite
Bei genauerem Hinsehen wurde die Exchange Server 2019 Webseite https://docs.microsoft.com/de-de/Exchange/new-features/new-features?view=exchserver-2019 nur teilweise aktualisiert. Einige Funktionen, wie z.B. die Beschreibung von  DLP Data Loss Prevention war exakt schon so wie bei Exchange 2016. Offenbar wurde hier nur die Versionsnummer ausgetauscht….
Lizenzierung
Editionen
Exchange Server 2019 erscheint in den Preislisten am 1. November 2018. Der Preis wurde um 10% erhöht.
Es gibt nach wie vor eine Standard sowie eine Enterprise CAL mit den bekannten Funktionsunterschieden.
Häufig gestellte Fragen zur Exchange-Lizenzierung: https://products.office.com/de-de/exchange/microsoft-exchange-licensing-faq-email-for-business 
Systemanforderungen
Neue Speicheranforderungen:
Minimum für die Mailbox-Rolle 128 GB, Edge 64 GB
Exchange 2019 unterstützt RAM bis zu 256 GB (Exchange 2016 bis zu 192 GB)
Prozessor: Die frühere Empfehlung war bis 24 CPU Cores (idealerweise auf zwei CPU Sockets). Neu sind 48 CPU Cores!
Unterstützte Clients:
Auch diesmal wieder gilt n-2:
Outlook 2019
Outlook 2016
Outlook 2016 for Mac
Outlook 2013
Outlook for Mac for Office 365
Wenn Sie Lync-Anwesenheitsinformationen und -Chat in Exchange Server integrieren möchten, ist Lync Server 2013 mit dem kumulativen Update 10 oder höher erforderlich. Wenn Sie Skype for Business-Anwesenheitsinformationen und -Chat in Exchange Server integrieren möchten, ist Skype for Business Server mit dem kumulativen Update 7 oder höher erforderlich.
Verfügbarkeit, Versionen und Roadmap
Der Produktlebenszyklus wurde für die Office Server 2019 von den klassischen 5+5 Jahren auf 5+2 Jahre geändert. Es ergibt sich also folgendes Supportendedatum: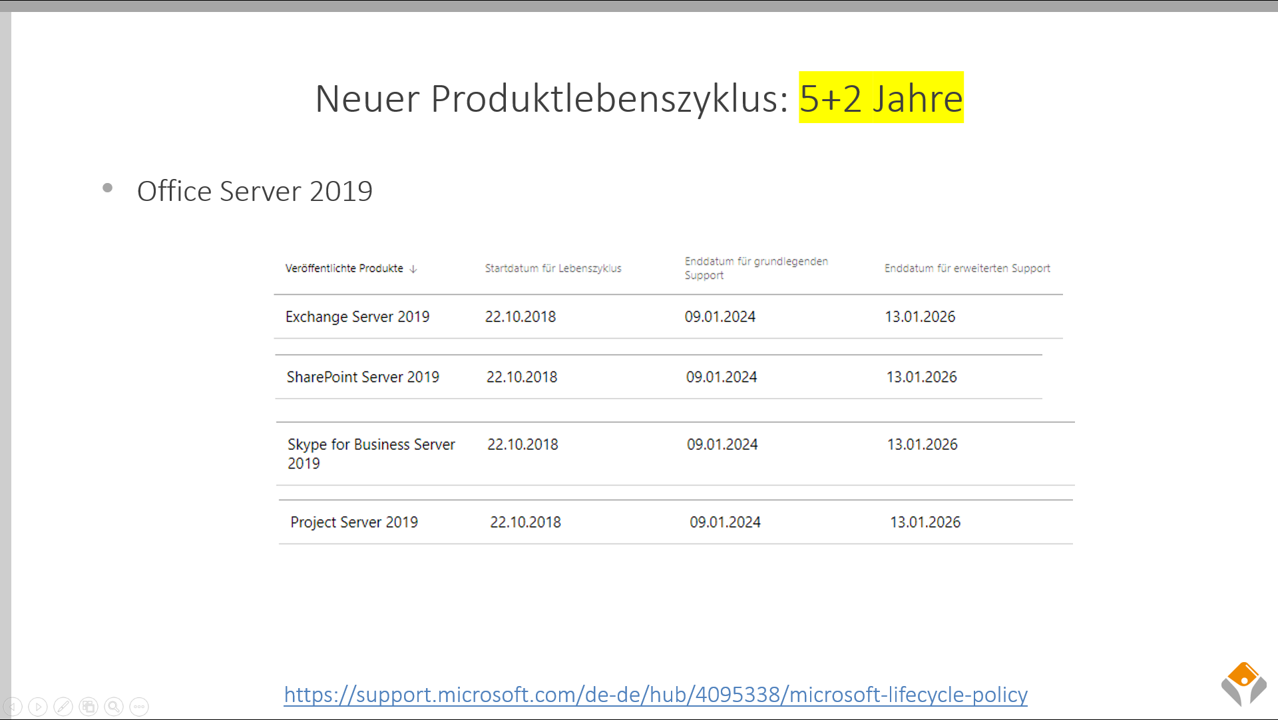 Und wenn man dies vergleicht mit dem 5+5 Jahre Support für die Office Server 2016 wird es noch interessanter:
SharePoint, Exchange, Skype for Business, Project Server 2016: Extended Support ist der 14.7.2026. Die 2016er Server haben also 6 Monate länger Support als die 2019er.