In einem Satz
Eine mobile App für sichere und umfassende Gruppenkommunikation (Chat) und Arbeitsverwaltung. https://kaiza.la
Ausführliche Beschreibung
[UPDATE am 30.8.22]
Kaizala wird eingestellt.
Wer auf uns gehört hat, hat das eh nie in D eingesetzt. Von uns schon länger prophezeit, nun von Microsoft ganz offiziell am 31.8.22 angekündigt, oder eher abgekündigt. Kunden haben noch ein Jahr zeit, nämlich bis zum 31.8.23, z.B . auf Teams umzustellen.
Hier die Quelle dazu:  https://docs.microsoft.com/en-us/lifecycle/announcements/kaizala-retirement-august-31-2023 Und falls Ihr doch Kaizala-Kunden habt, gibt's eine Anleitung zur Migration. [UPDATE END]
Microsoft Kaizala ist eine mobile App und ein Dienst, der Ihnen bei der Kommunikation mit großen Personengruppen und der Koordination von Arbeit in diesen hilft, selbst wenn diese nicht zu Ihrer Organisation gehören. Koordinieren Sie häufig verwendete Aufgaben mit integrierten "Aktionen", die wie "Mini-Apps" für gängige Workflowszenarios funktionieren. Einige Beispiele für integrierte Aktionen sind: Jobs zuweisen, Abstimmungen und Umfragen durchführen und Anlagen teilen. Mit einer eindeutigen Gruppen-innerhalb-von-Gruppen-Struktur können Sie Kaizala ganz einfach so einrichten, dass es die Hierarchie Ihrer Organisation widerspiegelt.
Die Registrierung erfolgt über die mobile Telefonnummer und damit ist der eigentliche Konkurrent auch schon klar!
Im Mai 2019 wird Kaizala Pro international verfügbar, mit Ausnahme von Kuba, Iran, North Korea, Volksrepublik China, Sudan, Syrien, Region des Krim und Russland.
In Office 365 wird es standardmäßig aktiviert, die IT kann aber steuern, dass es nicht genutzt werden kann.
[UPDATE AM 10.12.2019] Microsoft Kaizala becoming part of Microsoft Teams – Kaizala wird wohl nicht weiterentwickelt.... Hier die Microsoft Info dazu: "We will be adding Kaizala Pro capabilities to Teams over the next 12-18 months, ultimately replacing the Microsoft Kaizala service and making Microsoft Teams the primary client in Office 365 and Microsoft 365 for communication with both internal employees and people in your extended networks" Quelle: https://techcommunity.microsoft.com/t5/Microsoft-Kaizala-Blog/Update-on-Microsoft-Kaizala-becoming-part-of-Microsoft-Teams/ba-p/693806
Kaizala App für iOS und Android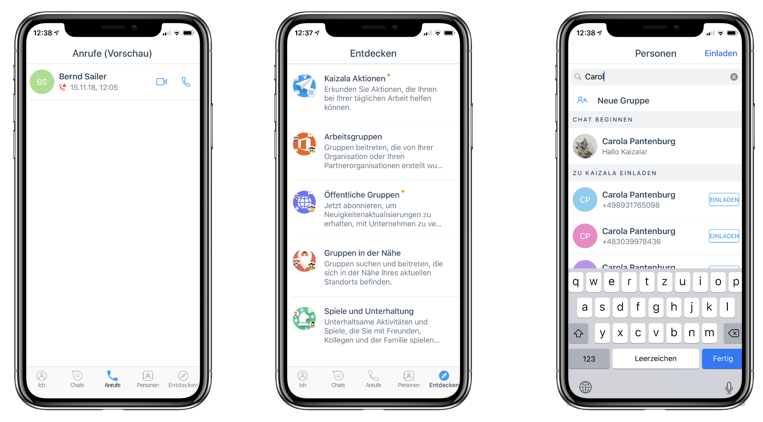 Android Version 4.3 oder höher
iOS Version 9.0 oder höher
In jedem Fall eine Handynummer!
Kaizala Web (Preview)
https://webapp.kaiza.la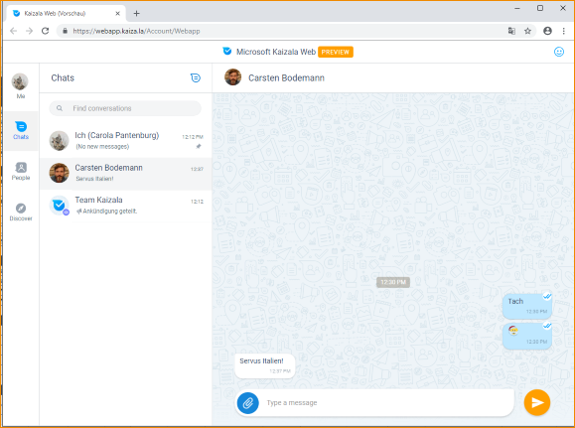 Kaizala Verwaltungsportal
https://manage.kaiza.la
Das Kaizala Verwaltungsportal ist eine webbasierte Anwendung, die erweiterte Verwaltungsfunktionen hinzufügt, um die Nutzung von Kaizala für Ihre Organisation zu verbessern.
Portalbenutzer benötigen eine gültige Microsoft Kaizala Pro-Lizenz, um sich anzumelden. Nach der Anmeldung können Sie selbst einer entsprechenden, bei Kaizala registrierten Telefonnummer ein Office 365-Konto zuordnen.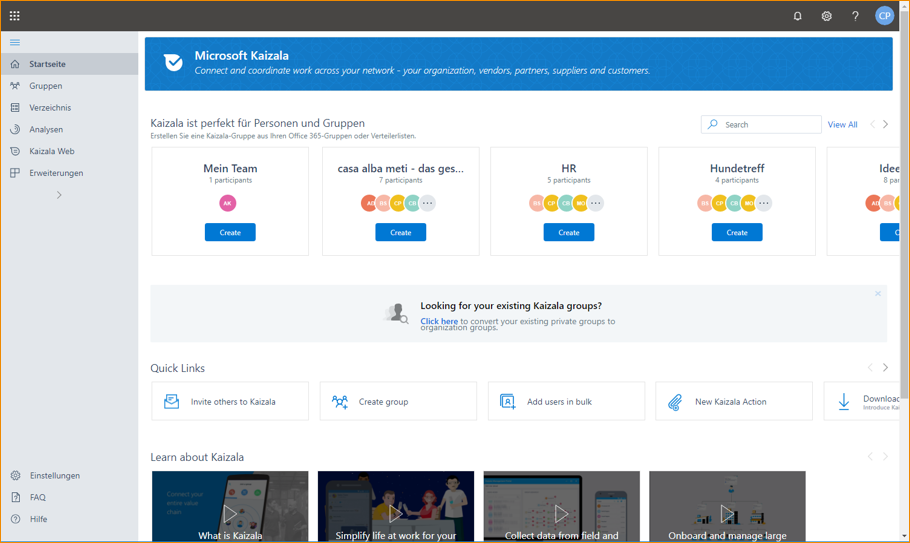 Kaizala Office AddIn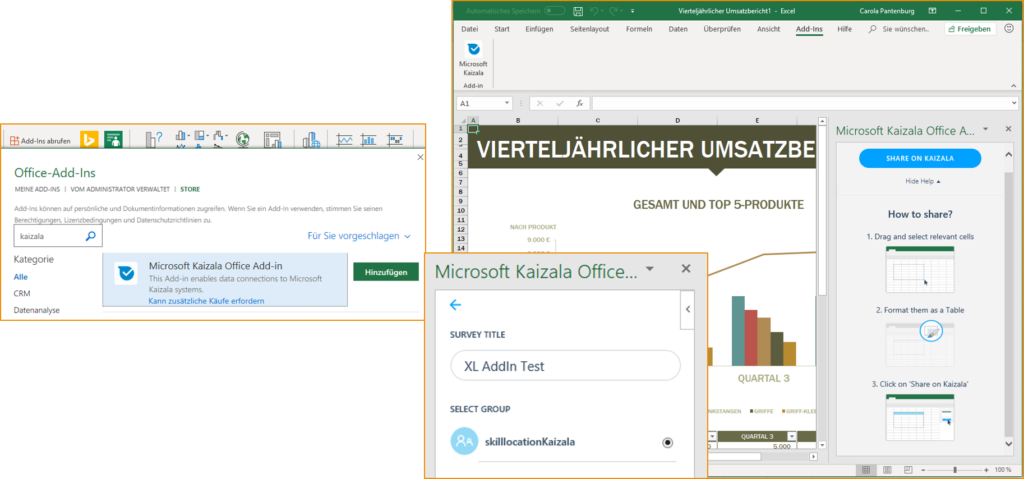 Aktivieren des Add-Ins: Starten Sie Excel, und wählen Sie Einfügen > Store. Geben Sie in das Suchfeld für Office-Add-Ins Dialogfeld in Microsoft Kaizala und starten Sie die Suche.
Umfragen
Checklisten
Microsoft Kaizala ist als Connector auf Microsoft Flow verfügbar und für Berichte in Power BI
Aktion: Schulungen: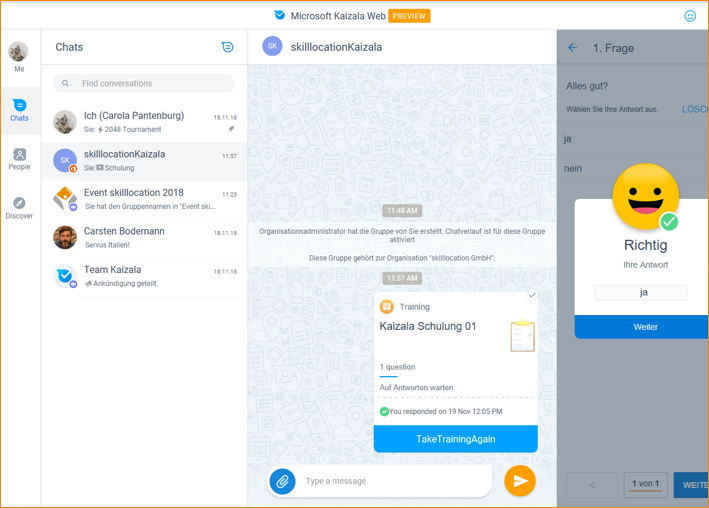 Lizenzierung
Kaizala Pro wird wohl in allen Office 365 Plänen enthalten sein, die die Server beinhalten, also nicht im Office Paket. Beginnend mit F1, E1 und Business Essentials.
Abgrenzung
Eine der wichtigsten Fragen, die sich stellt, ist die der Abgrenzung: warum bringt Microsoft ein weiteres Chat-Tool heraus, wo doch der ganze Fokus auf Teams liegt?
Meine (!) Antwort: Teams ist ja viel mehr als ein Chat-Tool und sollte auch der "Hero" um Unternehmen sein, um ungewollte Tools wie WhatsApp abzulösen. Außerdem wurde Kaizala primär für Indien und "Emerging markets" entwickelt. Erst jetzt kommt ein internationaler Einsatz zum Tragen. Ich sehe eigtl. keinen Bedarf in Deutschland. Lieber Teams nutzen! (zumal dies auch Telefonnummernunabhängig funktioniert.
Aber: vor wenigen Tagen (4.4.19) hat Microsoft bekannt gegeben, dass sie Kaizala in Microsoft Teams in den nächsten 12-18 Monaten phasenweise integrieren werden.
Hinweise und Links
https://docs.microsoft.com/de-de/office365/kaizala/kaizala-overview