In einem Satz
Mit der Version 2016 von Visio kommen neue Varianten hinzu. Vor allem die Möglichkeit, die Desktop-Applikation über einen Office 365 Subscription Plan zu beziehen, aber auch Visio Online im Browser erweitern die Möglichkeiten.
Ausführliche Beschreibung
Mit Visio können die unterschiedlichsten Anforderungen visualisiert werden: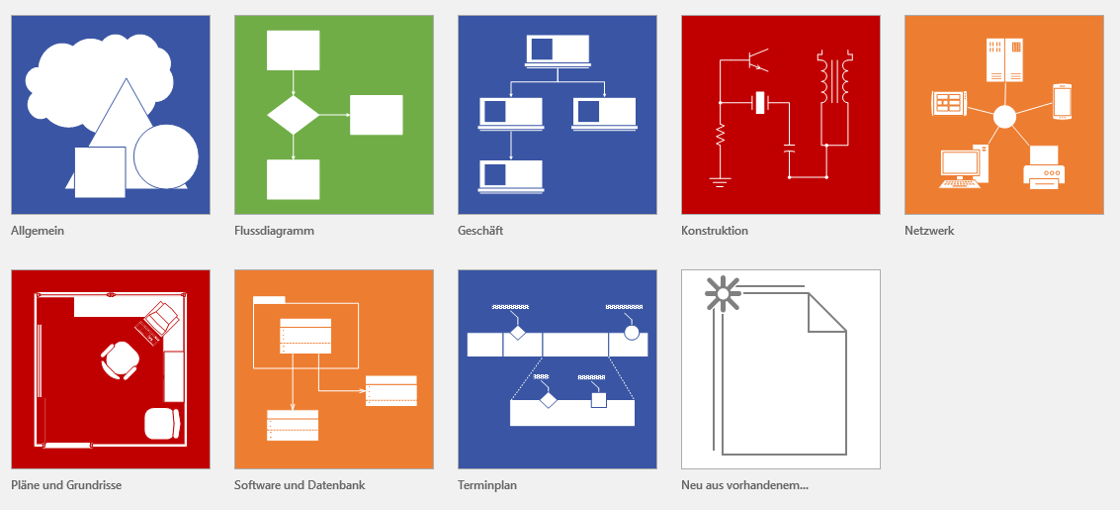 Neue Funktionen:
Professionelle Diagramme, um komplexe Informationen einfach darzustellen und zu vermitteln

Netzwerkdiagramme, Flussdiagramme, Organigramme, Grundrisse, Konstruktionspläne und mehr
Intelligente Shapes
250.000 Shapes und integrierte Vorlagen, die Branchenstandards wie UML (Unified Modeling Language) 2.5, BPMN (Business Process Model) 2.0 und IEEE (Electrical and Electronics Engineers) erfüllen.
Prozesse mit integrierten Vorlagen nach Branchenstandard (z. B. BPM, EPC und Six Sigma) abbilden
Dynamisch Daten in das Diagramm eines IT-Netzwerks, einer Fertigungsanlage oder komplexer Geschäftsprozesse einbinden. Wenn sich die zugrunde liegenden Daten ändern, werden Ihre Diagramme und Datenvisualisierungen automatisch aktualisiert.
Co-Authoring: gleichzeitig am selben Diagramm arbeiten, über Skype for Business chatten , oder per Stift oder Finger einen Kommentar einfügen.

Importierte AutoCAD-Designs mit Daten oder intelligenten Shapes (bis DWG 2013) ergänzen

Schutz per Information Rights Management (IRM) für Visio-Dateien (nicht in der Standard)
uvm: (hier)
Editionen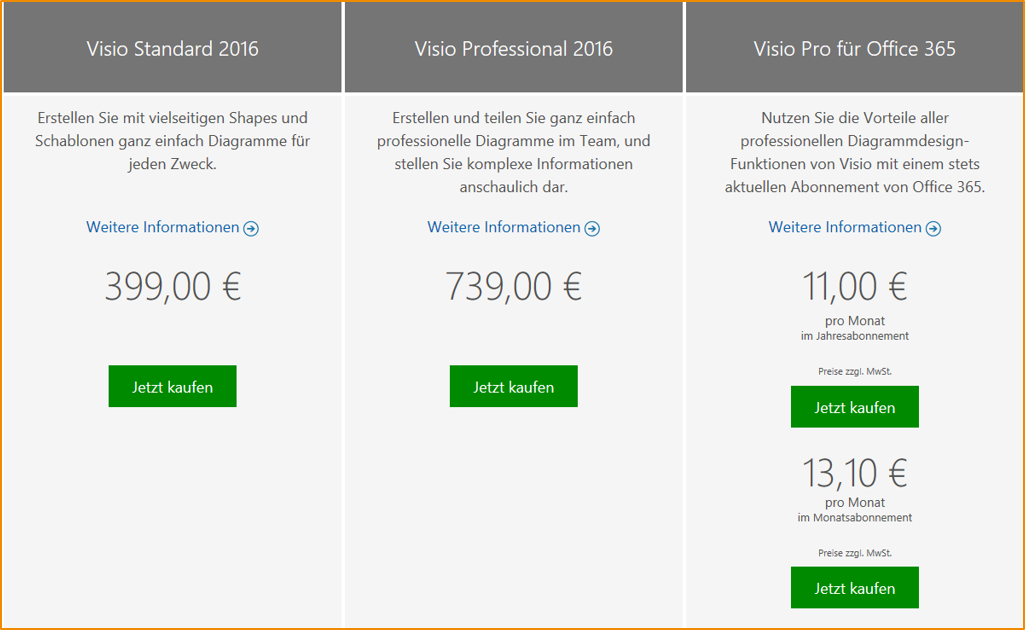 Visio Pro für Office 365, als Abonnement über Office 365 erhältlich.
Visio Professional 2016 oder Visio Standard 2016 im Rahmen eines Volumenlizenzvertrags.
Die Visio Pro für Office 365 umfasst die Desktop-Applikation mit folgenden typischen Office 365 Ergänzungen:
Klick-und-Los (Click-to-Run) Installation (Streaming)
Automatische Updates
Auf bis zu fünf PCs installierbar
Visio Online (Preview Stand 13.9.17)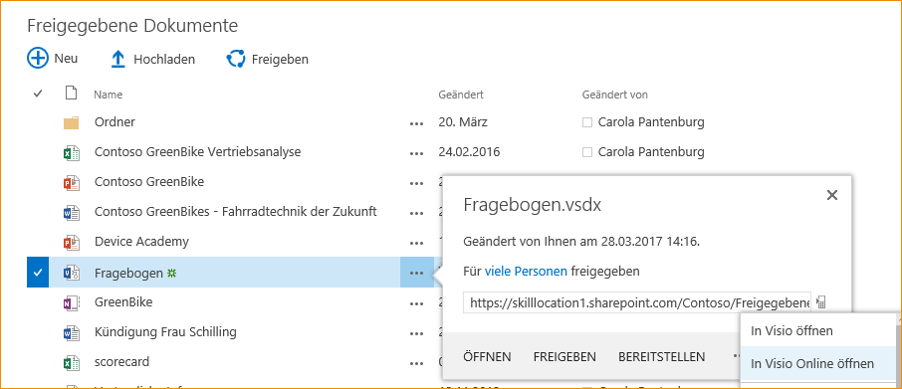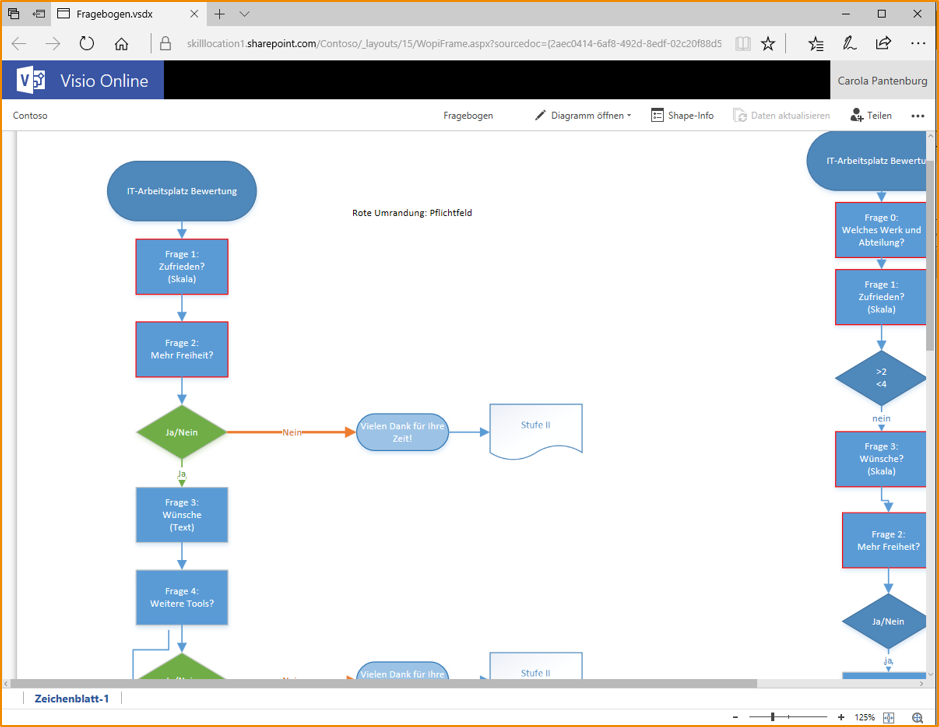 Visio Online ist in folgenden Office 365 Plänen enthalten:
Office 365 Enterprise E1, E3, E5
Office 365 Enterprise K1
Office 365 ProPlus
Office 365 Business
Office 365 Business Essentials
Office 365 Business Premium
Office 365 Government E1, E3, E5, K1
Office 365 Education E3, E5
SharePoint Online Plan 1, Plan 2
OneDrive for Business Plan 1, Plan 2
Generell sagt Microsoft ist Visio Online in allen Office 365 Commercial Subscriptions enthalten, in denen auch Office Online enthalten ist. Visio Online ist laut Microsoft aber auch verfügbar für Exchange Online, Outlook.com oder Hotmail. Damit scheint es also eigtl. komplett gratis zu sein! Aber:
Visio Online lässt das Bearbeiten von Diagrammen derzeit nicht zu!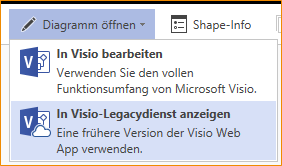 Update am 13.9.17:
Microsoft fügt nun das Erstellen und Bearbeiten von Visio Online über den Browser hinzu!
"Since Visio Online relies on SharePoint Online and OneDrive for Business, you or your organization will need an Office 365 license to use Visio Online during Public Preview"
Visio Viewer iOS
Über den Apple Store zum Download: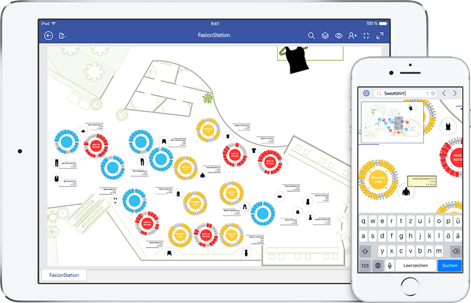 Interessant auch folgendes AddIn:
Visio Custom Visual for Power BI
15.7.17: Public preview of the Visio custom visual for Power BI  aus dem Office Store. Darüber können Visio Shapes in PowerBI verwendet werden: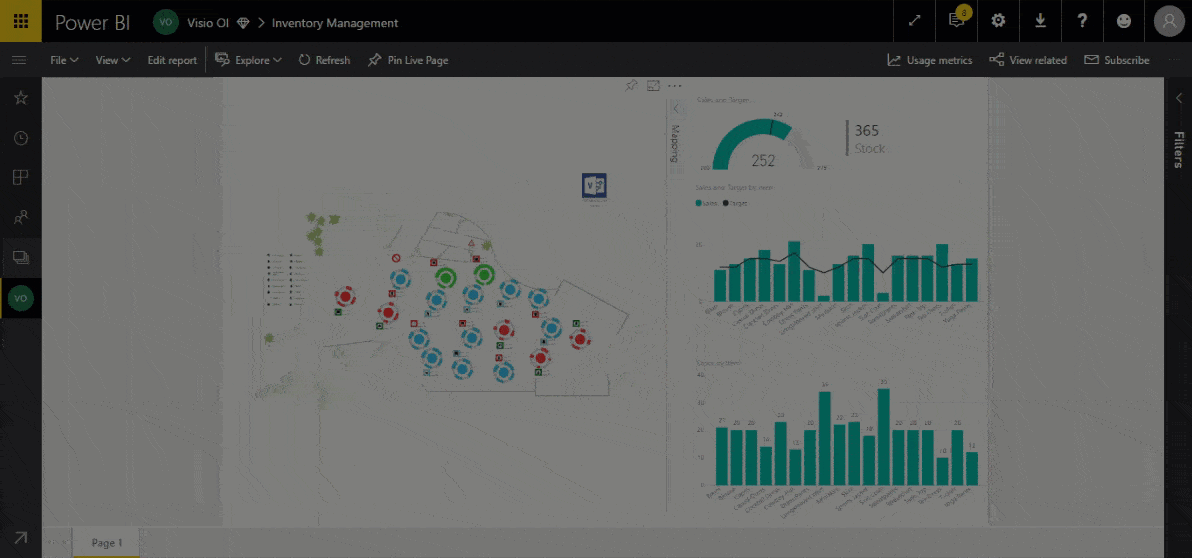 Das Visio Diagramm muss dazu auf SharePoint Online oder OneDrive for Business liegen.
Derzeit erhältlich für Power BI Service und Power BI Desktop. Support für Power BI Mobile Apps kommt.
Und es gibt ein Visio Content Pack für Office 365. Hierüber können Admins die Verwendung von Office 365 Daten und Apps über PowerBI visualisieren: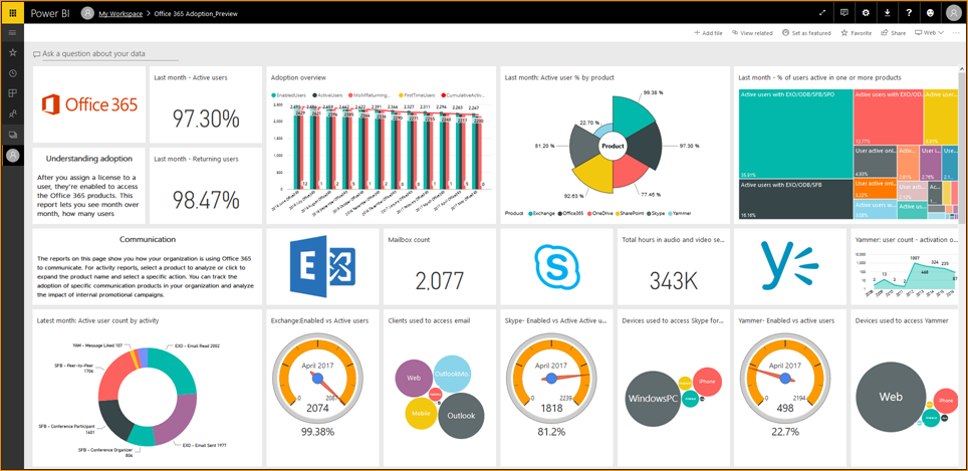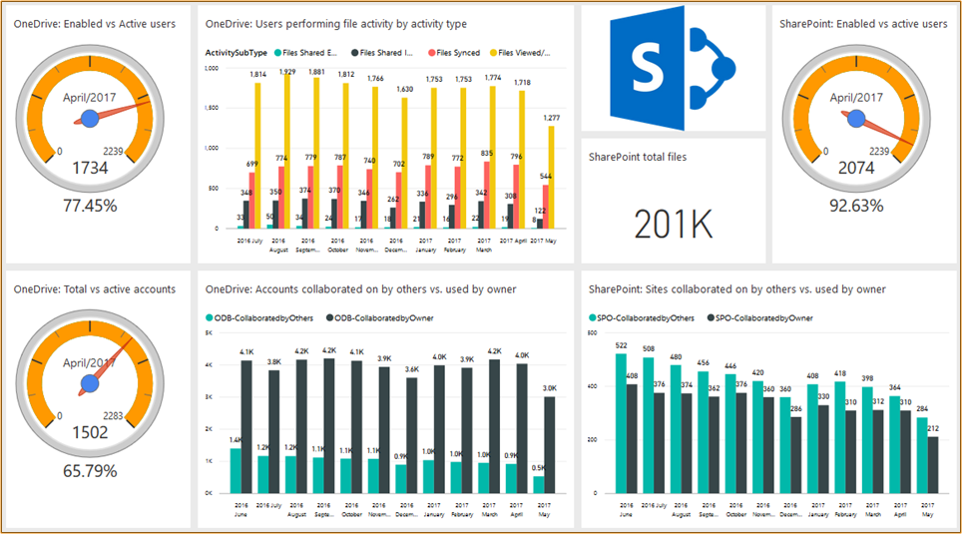 Das Content Pack ist auf der Office 365 Admin-Portalseite unter Berichte – Verwendung verfügbar: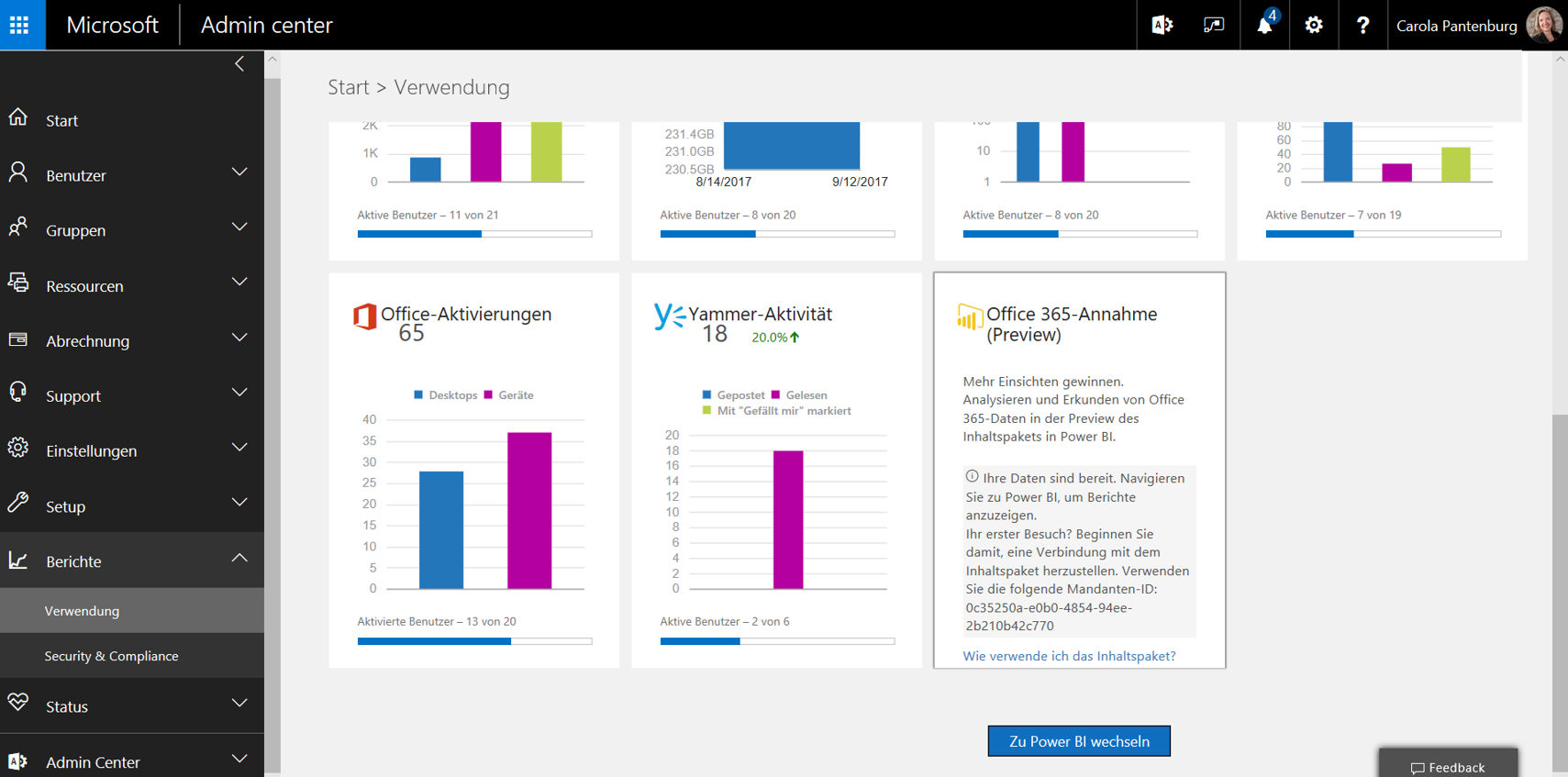 Wichtigste Funktionen / Features
Eine Microsoft .PDF gibt eine gute Übersicht der Funktionalitäten von Visio 2010 bis Visio 2016: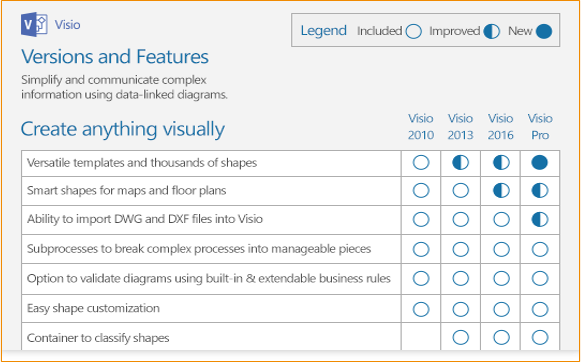 Download der Übersicht hier (EN) und hier in DE auf der Webseite: https://products.office.com/de-de/visio/microsoft-visio-plans-and-pricing-compare-visio-options
Hinweise
https://products.office.com/de-de/visio/microsoft-visio-plans-and-pricing-compare-visio-options
https://go.microsoft.com/fwlink/p/?linkid=832132 (Funktionsübersicht, EN, .PDF)
https://products.office.com/de-de/Visio/microsoft-visio-visio-version-comparison
Visio Services und Visio Web Access Web Part: In SharePoint 2010 und 2013 gab es (und gibt es) die Möglichkeit, Visio Grafiken in eine SharePoint Seite zu integrieren. Dafür war übrigens eine Enterprise CAL nötig.
"Visio Online does not impact Visio Web Access Web Part. If you have SharePoint pages in which VWA Web Part has an embedded Visio diagram, they will continue to work.
With Visio Online, you have additional capabilities to do the following:
– Embed a Visio diagram in "Document" Web Part in Modern team site pages.
– Build mashup solutions using Visio JavaScript APIs. These APIs provide richer solution-building capabilities compared with existing VWA support."
Verfügbarkeit, Versionen und Roadmap
26. September 2016: RTM – finale Version
20. März 2017: Visio Online – Preview
Systemanforderungen
Microsoft hat eine Übersicht mit welchen Browsern Visio Online gut oder weniger gut funktioniert hier bereitgestellt.