Da unsere Office 365 Seiten überquellen, habe ich mal eine separate Seite zu OneDrive for Business angelegt.
OneDrive, OneDrive for Business, SharePoint, NGSC, aber auch SkyDrive, Groove oder SharePoint Workspaces sind Begriffe, die immer wieder (in der Historie) auftauchen und für Verwirrung sorgen. Und Microsoft tut das nötigste dazu, denn sie selbst verwenden die Begriffe völlig inkonsistent und schaffen mehr Unklarheit als eine Übersicht.
Dann wird das Tool auch noch permanent überarbeitet und kaum zwei PCs haben die gleiche Version.
Daher hier eine Gegenüber- und Klarstellung!
Hinweis: wenn nicht explizit erwähnt, sprechen auch wir hier ausschließlich von OneDrive for Business. Auch Microsoft verwendet sehr oft nur den Begriff OneDrive, meint aber evtl. ODB. Unten ist erklärt, wo die Unterschiede sind)
In einem Satz
OneDrive for Business ODB  liefert einen zentralen Cloudbasierten Speicherort für alle Arbeitsdateien – mit Zugriff von praktisch überall aus, einfacher Freigabe und integrierter Sicherheit.
Der persönliche Onlinespeicher für Unternehmensmitarbeiter.
Ausführliche Beschreibung
Mit OneDrive for Business können Sie Dokumente von praktisch überall aus ganz leicht verwalten und teilen und auf dem Gerät Ihrer Wahl in Echtzeit zusammenarbeiten.
Freigabe von Dateien für Personen innerhalb und außerhalb des Unternehmens, steuern Sie, wer die einzelnen Dateien anzeigen und bearbeiten darf, und synchronisieren Sie Dateien problemlos zwischen PCs bzw. Macs und anderen Geräten.
OneDrive for Business ODB basierte zunächst auf dem früheren Groove.exe (davor auch SharePoint Workspaces und auch mal SkyDrive etc.). Im Prinzip ist es ein Offline/Synch-Client für SharePoint.
Mit der neuen Version NGSC (Next Gen Sync Client) wird die groove.exe endlich ersetzt und vollständig neu entwickelter Client für die Synchronisiation namens OneDrive.exe verwendet. (Download hier).
Diese neue Version ist am 24.01.17 GA gegangen.
Das Synchen von SharePoint Online Team Sites inkl. Dateien innerhalb von Microsoft Teams und OneDrive for Business Ordnern vom PC und Mac, sind die ersten neuen Funktionen.
Einen kompletten Foliensatz haben wir für unsere Abonnenten im Extranet zum Download. Er kann auch explizit erworben werden (Preis: 58,- € netto).
Wichtigste Funktionen / Features
Allgemein
Dateien mit Personen innerhalb und außerhalb des Unternehmens teilen
Steuern, wer die Dateien jeweils anzeigen und bearbeiten darf
Offlinezugriff für eine oder mehrere Dateien
Bearbeiten Sie dieselbe Datei gemeinsam immer in der aktuellen Version (Co-Authoring, mit Office 2016 Co-Authoring in Echtzeit)
Ende 2015 kamen folgende Neuerung hinzu:
Neue Engine: Bislang hatten OneDrive und OneDrive for Business zwei unterschiedliche Synch-Engines zugrundeliegen. Diese werden nun angeglichen und die (bessere) Engine von OneDrive wird übernommen. Dies hat z.B. den Vorteil dass nun nicht mehr eine ganze SharePoint-My-Site gesyncht wird, sondern einzelne Bibliotheken/Ordner ausgewählt werden können.
Unterstützung von Dateiuploads bis zu 10 GB
Aufhebung des Dateilimits von 20.000
In bestimmten Plänen unlimitierter Plattenplatz für OneDrive for Business:
– Office 365 Enterprise E3, E4 and E5
– Office 365 Government E3, E4 and E5
– Office 365 Education
– OneDrive for Business Plan 2 and SharePoint Online Plan 2
Dieser muss allerdings via PowerShell aktiviert werden. Hier eine Seite, wo steht, wie: How to Enable Unlimited Storage in OneDrive for Business)
Damit sieht das im Windows Explorer von Windows 10 so aus: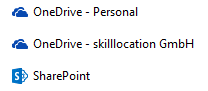 In OneDrive Personal kann einfach ein Office 365 Konto hinzugefügt werden: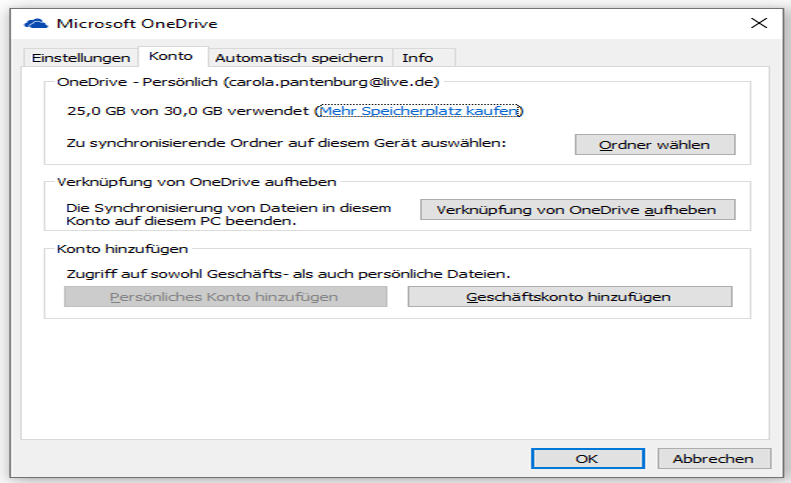 und dann können jeweils eigene Ordner selektiert werden:
OneDrive for Business NGSC
Die nächste Version von ODB ist seit 24. Januar 2017 verfügbar und wird u.a. folgende Neuerungen haben:
Echtzeit Co-Authoring (mehrere Autoren arbeiten gleichzeitig im Dokument mit Desktop-Version Office 2016 (nur dieser) oder Office Online – auch gemischt)
Dokumentfreigebe aus Office heraus
Betriebssystem-Unterstützung für:
Windows 10, Windows 8, Windows 8.1 und Windows 7
Mac OSX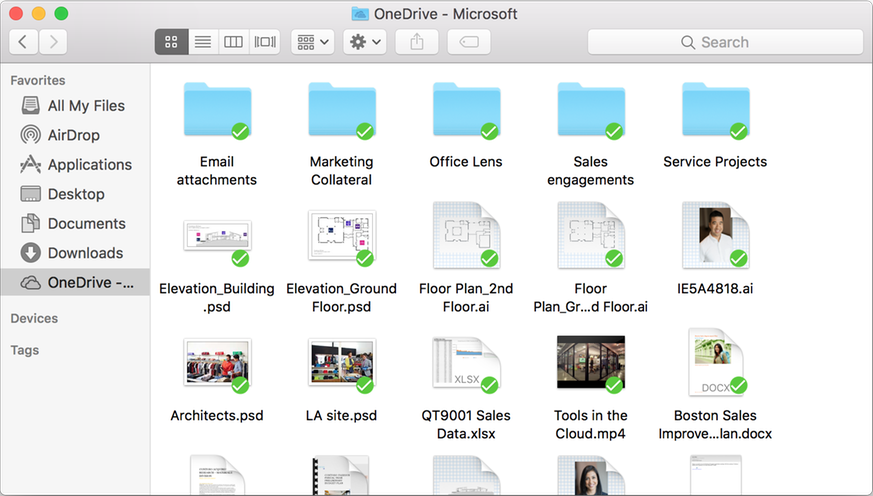 Das Update auf die finale Version ging automatisch, so man die Preview bereits eingesetzt hatte (und ist auch schon Deutsch verfügbar). Den manuellen Download gibts hier: new OneDrive for Business sync client.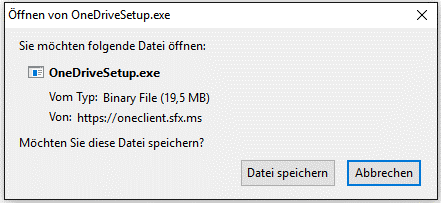 Der neue OneDrive for Business-Synchronisierungsclient unterstützt noch nicht das Synchronisieren von On-Premise Website-Bibliotheken oder lokalen Instanzen von OneDrive for Business.
OneDrive Admin Center
Am 24.Januar 2017 erscheint das OneDrive Admin Center: unter https://admin.onedrive.com (Login natürlich mit einer Office 365-Adresse) kann der Admin hier zentrale Konfigurationseinstellungen vornehmen:

Für den Unternehmenseinsatz können einzelne Konfigurationen auch per Gruppenrichtlinie freigegeben werden. Dazu gibt es eine OneDrive.admx, mit der die Einstellungen via Group Policy definiert werden, um z.B. die maximale Bandbreite festzulegen. Die ADM-Datei im OneDrive-Bereitstellungspaket enthalten ist. Weitere Informationen finden Sie unter Administrative Einstellungen für den OneDrive for Business-Synchronisierungsclient der nächsten Generation.
Lizenzierung
OneDrive for Business kann als separater Plan erworben werden (was preislich gesehen nicht die interessanteste Lösung ist) oder als Teil anderer Office 365-Pläne.

1 TB OneDrive-Cloudspeicher pro Benutzer
5 TB Cloudspeicher pro Benutzer bei Abonnements mit mindestens fünf Benutzern
Plan 2:
Plan 1 plus:
– Schutz vor Datenverlust (DLP)
– Rights Management Services
– eDiscovery
– In-Situ-Speicher, um gelöschte und bearbeitete Dokumente aufzubewahren
https://products.office.com/de-DE/onedrive-for-business/compare-onedrive-for-business-plans
Editionen
Aufgrund der Historie von OneDrive gibt es im Wesentlichen folgende verfügbare Client-Installationen: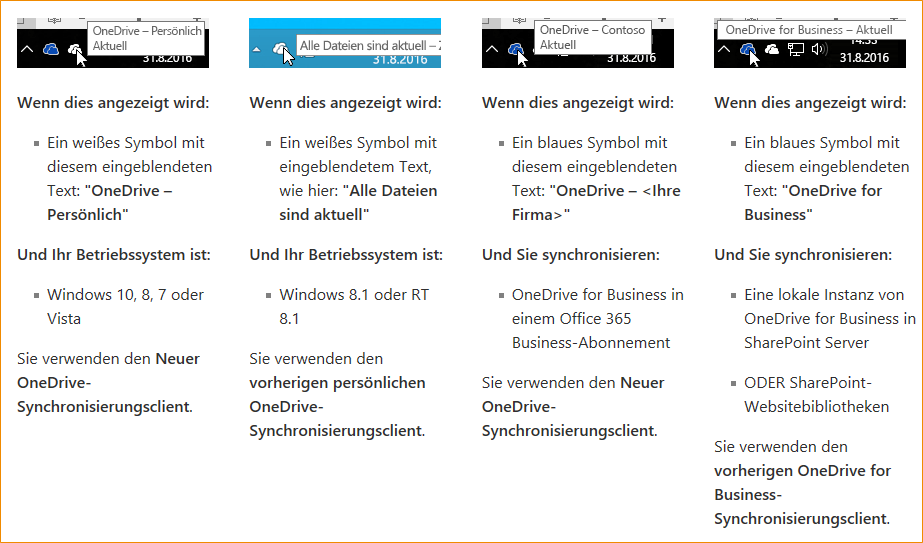 Systemanforderungen
Mobiler Client: Smartphone und dem Tablet mit der OneDrive for Business-App für iOS, Android und Windows
Web Client
Desktop Client für Windows 7 und höher und MacOS
Verfügbarkeit, Versionen und Roadmap
OneDrive for Business-Einschränkungen bei der Synchronisation von Dateien und Ordnern:
https://support.microsoft.com/de-de/kb/3125202
SharePoint Online kann maximal 30 Millionen Dokumente pro Bibliothek synchronisieren
Upload-Beschränkung: 10 GB-Begrenzung für jede Datei
Dateinamenspfade bis zu 256 Zeichen