Da auch dieses Thema zunehmend spannend erscheint, habe ich eine neue separate Seite hierzu erstellt.
PowerApps ermöglicht es auf einfache Weise, Apps zu erstellen.
GA am 31.10.16.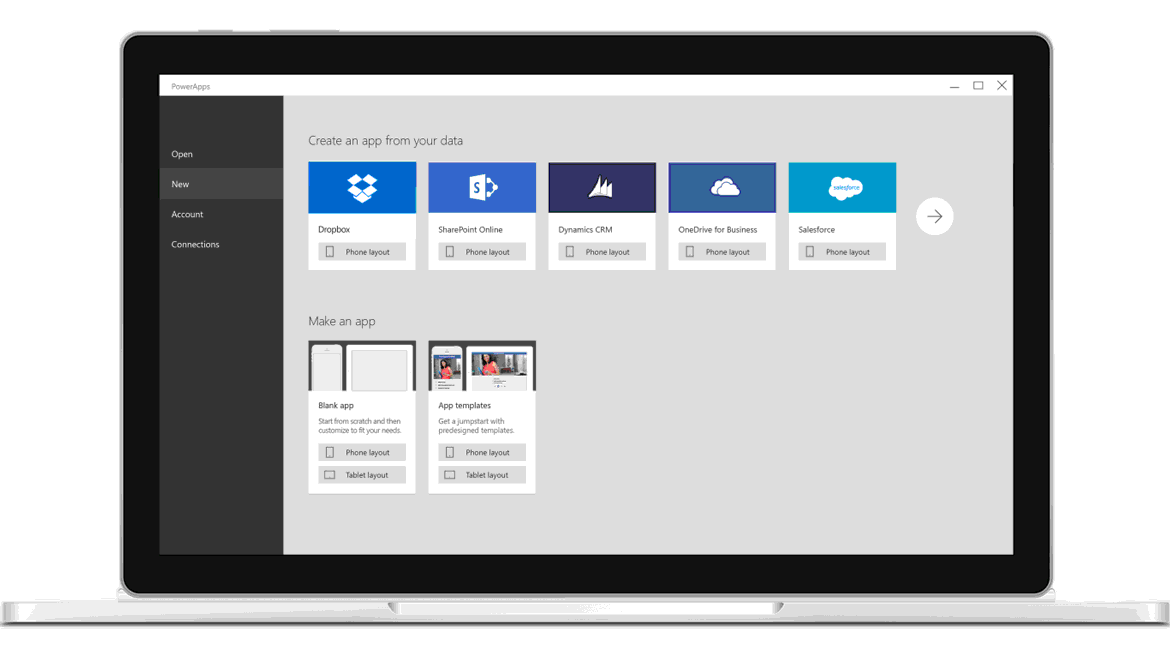 PowerApps (Codename Project Kratos) ist eine Sammlung von Werkzeugen, die es Fachanwendern erlaubt Apps für Smartphones und Tablets (iOS, Android, Windows) sowie Windows 10 PCs zu erstellen. Gearbeitet wird dabei in einer für Office-Anwender vertrauten Umgebung, welche nur geringe bis keine Programmierkenntnisse erfordert. Die erstellten Apps können auf bereits im Unternehmen vorhandene Daten zurückgreifen und damit sowohl neue Anwendungsfälle abdecken, als auch existierende Systeme um eine mobile Komponente ergänzen. Gemeinsam mit von der Unternehmens IT bereitgestellten Schnittstellen und Diensten sowie den mitgelieferten Schnittstellen bietet PowerApps damit eine einfach zu nutzende Möglichkeit Geschäftsanwendungen für mobile Endgeräte zu erstellen und diese mit anderen Anwendern im Unternehmen zu teilen. Man könnte es "PowerPoint für die App-Erstellung" nennen.
"Project Siena" war lange Zeit eine Beta-Version, zunächst dachte ich PowerApps wird die finale Variante davon. PowerApps lehnt zwar an Project Siena an und ersetzt es, hat jedoch eine andere Code-Basis.
https://powerapps.microsoft.com/de-de/
Preise und Editionen/Pläne
Auf der Microsoft Seite: https://powerapps.microsoft.com/de-de/pricing/
Keine kostenlose Edition (außer Test)
PowerApps for Office 365 and Dynamics 365 oder separat als Plan 1 (5,90 €) oder Plan 2 (33,70 €)

Apps im Browser oder PowerApps Mobile für iOS, Android und Windows
für SharePoint Online und SharePoint Mobile
Microsoft Flow ist enthalten!

Enthalten in

Office 365 Business Essentials
Office 365 Business Premium
Office 365 Enterprise E1
Office 365 Enterprise E3
Office 365 Enterprise E5
Dynamics 365 for Sales, Enterprise Edition
Dynamics 365 for Customer Service, Enterprise Edition
Dynamics 365 for Operations, Enterprise Edition
Dynamics 365 for Field Service, Enterprise Edition
Dynamics 365 for Project Service Automation, Enterprise Edition
Dynamics 365 for Team Members, Enterprise Edition
Dynamics 365 for Financials, Business Edition
Dynamics 365 for Team Members, Business Edition

On-premises connectivity is not available for Office Business and Office Enterprise E1 SKUs
Integration mit Salesforce etc. nur mit zusätzlichem Plan 1
Common Data Service modellieren nur mit Plan 2

Dynamics 365, Enterprise Edition, Plan 1
Dynamics 365, Enterprise Edition, Plan 2
Ausführliche Beschreibung
PowerApps ist eine perfekte Ergänzung zu Microsoft Flow und Power BI: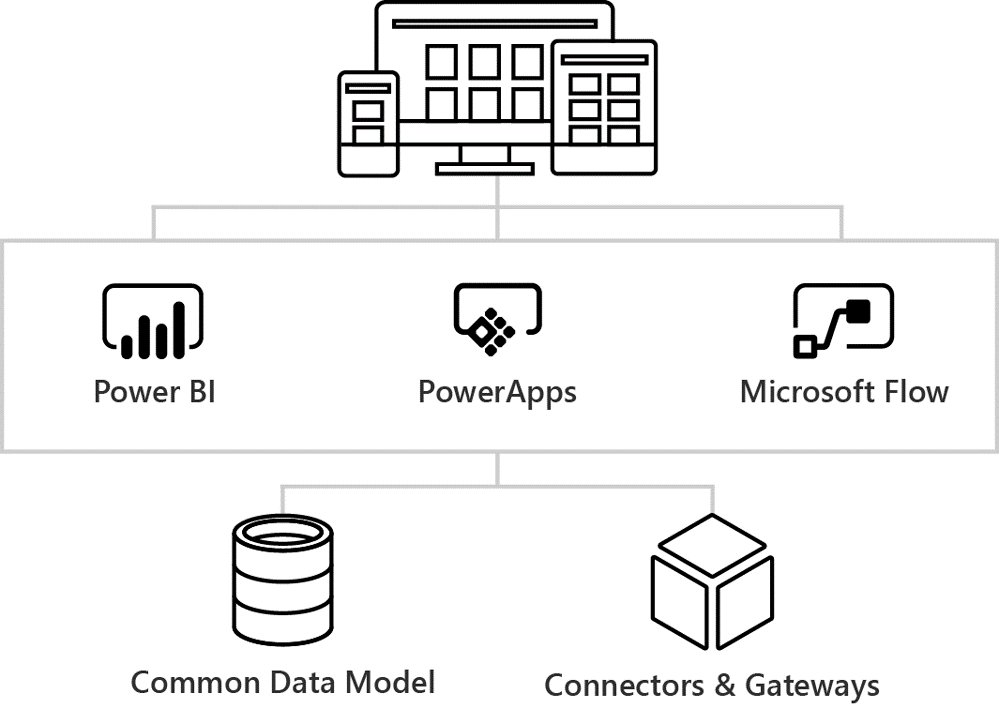 Konzept
Über ein Common Data Model CDM wird eine Datenbank erstellt, die bereits vorgefertigte Entitäten enthält. Und natürlich durch eigene Felder erweitert werden kann.
Über Verbindungen/Connectors werden andere – auch fremde – Services gekoppelt.
Und Gateways schließlich erlauben die Verbindung auf lokale Dienste wie einen On Premise SQL Server.
Viele Beispiel-Vorlagen helfen, nicht blank anfangen zu müssen.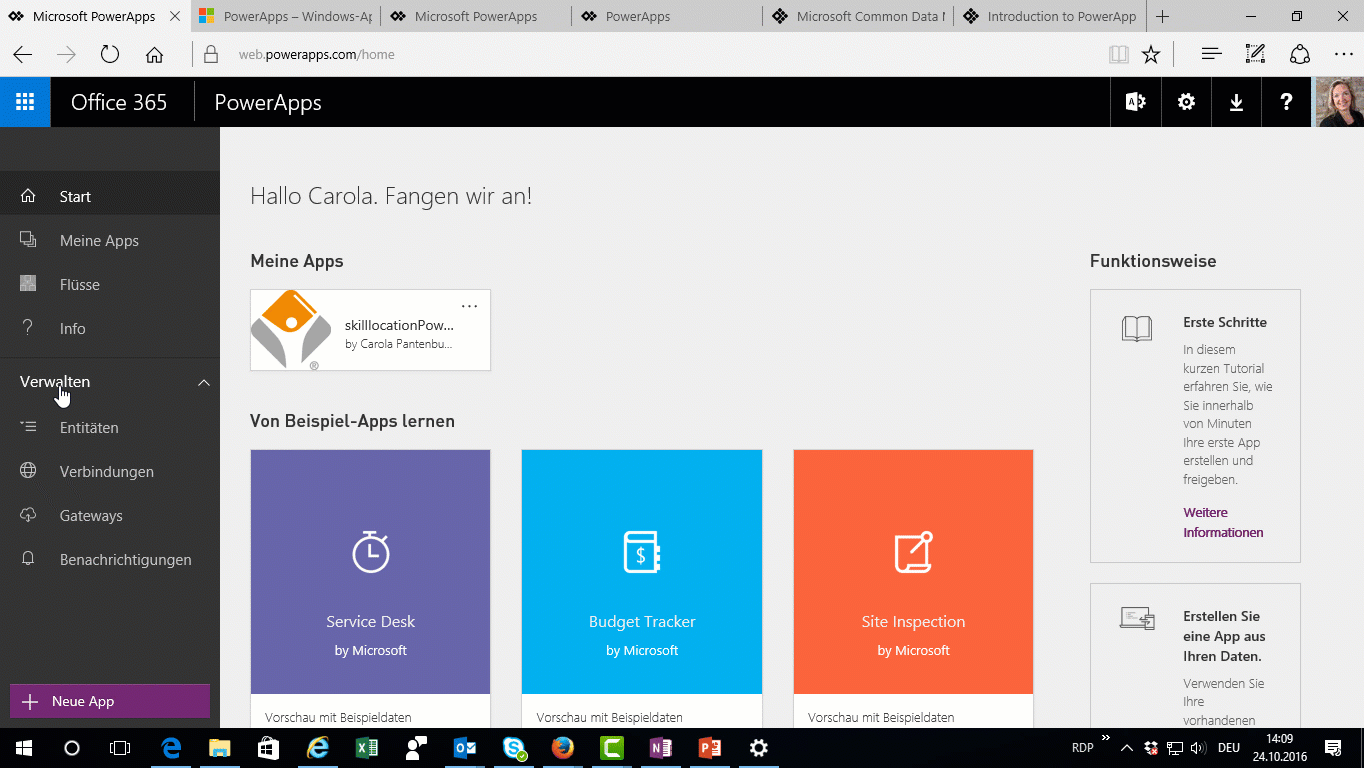 Eine neue App ist schnell erstellt. Und kann mit beliebigen Personen in Ihrer Organisation geteilt werden, also mit jedem, der dieselbe E-Mail-Domäne verwendet. Die Veröffentlichung muss also nicht über den Windows Store laufen.
PowerApps
SharePoint: Im August 2016 kam die Möglichkeit, SharePoint Online Modern Lists als PowerApp zu veröffentlichen.